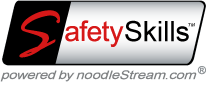 We have designed the LMS to be user friendly, and also to be sure it is secure and reliable for all of our customers. Updates are strongly based on customer feedback and are prioritized for implementation based on that feedback.
Oklahoma City, OK (PRWEB) October 27, 2011
SafetySkills™, powered by noodleStream.com®, is a premier online safety training solution providing Environmental Health and Safety (EHS) training to individuals and all sized companies. Each SafetySkills™ plan includes access to the Learning Management System (LMS), regardless of the number of learners in your account. The LMS is an intuitive system that does not require any downloads to take advantage of its features. The LMS has all the features you want, and none that you don't. Features include a course catalog of over 200 courses, multiple assignment options, numerous reports with exporting capabilities, option to create, manage and track off-site events, ability to create learner groups, printable certificates for each course, multiple administrators and numerous customizable capabilities.
In an effort to stay aligned with customers changing safety training demands, SafetySkills™ releases periodic updates to the LMS. This most recent update integrates Microsoft SQL Azure, which is a service that aids in providing high availability and redundancy through Microsoft datacenters. High availability ensures that the site will virtually never go down and having high redundancy ensures the system will not lose data. Another tool now being used is Web Deploy, which allows the developers to provide and carry out updates much faster and more efficiently in the future.
Jason Ball, Lead Application Developer for the SafetySkills™ Learning Management System states, "We have designed the LMS to be user friendly, and also to be sure it is secure and reliable for all of our customers. Updates are strongly based on customer feedback and are prioritized for implementation based on that feedback. We're excited to bring cutting-edge technologies to our customers in order to expedite and simplify the training experience."
About SafetySkills™:
SafetySkills™ is headquartered in Oklahoma City, Oklahoma and provides innovative, interactive online safety training and a Learning Management System that helps you protect everyone in your organization. With over 200 OSHA, EPA and DOT compliant courses, SafetySkills™ works smarter, feels better and offers flexible pricing plans to fit any sized company's training budget.
For further information about SafetySkills™ online safety training, please visit them at http://safetyskills.com/
###