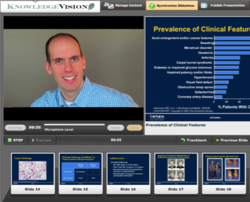 KVStudio can now be an everyday tool for those who want to build and send online presentations using their built-in webcam, a video camera attached to their computer, or even simply a microphone or headset
Concord, Massachusetts (Vocus/PRWEB) January 21, 2011
KnowledgeVision Systems, which makes the world's most flexible online presentation tools, released Version 3.2 of its KVStudio software today. Among many new features in the release are the ability to record video and audio directly within the KVStudio software, as well as additional analytics to help content creators understand how their presentations are being viewed and used.
The KnowledgeVision online presentation system synchronizes video, audio, presentation slides (such as Microsoft PowerPoint), just-in-time footnotes, and virtual handouts together into engaging online experiences that may be viewed on-demand from any web browser, anywhere in the world, any time of the day. KVStudio is the easy-to-use, subscription-based software that creates, manages, and distributes KnowledgeVision presentations.
"The new features in KVStudio 3.2 lift our online presentation tools beyond the realm of professional content creators, to the desktop of every business professional who needs to create on-demand video content," said KnowledgeVision CEO Michael Kolowich. "KVStudio can now be an everyday tool for those who want to build and send online presentations using their built-in webcam, a video camera attached to their computer, or even simply a microphone or headset."
Major new features in the KVStudio 3.2 release:

Direct video recording within the application - KVStudio users now have the option to either upload a video file or record video directly into the KVStudio software, while synchronizing presentation slides. The recorded video file is compressed and optimized for KnowledgeVision and available within minutes.
Full audio support, with direct audio recording - KVStudio now offers full support for audio-only online presentations, in addition to video-synchronized presentations. KnowledgeVision has released new audio-only template designs for narrated presentations.
Viewer retention analytics - KVStudio tracks and displays each presentation's effectiveness at retaining viewers across the length of a presentation, and allows retention curves to be compared across presentations within a producer's account.
Read a complete list of KVStudio's online presentation features.
KVStudio 3.2 is available immediately, and current users of KVStudio 3.1 will be offered the opportunity to complete a free upgrade each time they log in to the KnowledgeVision system. Installation typically takes less than two minutes.
For a complete demonstration of KnowledgeVision, go to http://www.knowledgevision.com/demo.
About KnowledgeVision
Massachusetts-based KnowledgeVision Systems offers a system and tools for creating, managing, and delivering video online presentations. A venture capital-backed company founded in early 2010, the company's advanced content creation tools are already in use at some of the largest financial services, information technology, professional services, education, and not-for-profit organizations in the world. KnowledgeVision is dedicated to reinventing the business presentation to meet the demands of an online, on-demand, multisensory, anytime/anywhere world.
# # #