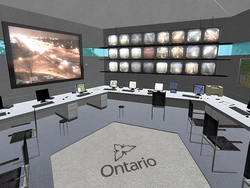 New York, NY and Huntsville, ON (PRWEB) September 26, 2008
Moderne Interactive, a digital marketing agency specializing in Second Life and virtual worlds, will be presenting at Ontario's Digital Economy Conference next week in Huntsville, Ontario. Leigh Rowan, VP of Interactive Marketing for the virtual worlds marketing firm, will discuss innovative ways governments - including Ontario's - are using virtual worlds for multiple uses: everything from internal meetings and collaboration to external public awareness campaigns, job recruitment, and more. His presentation will take place Wednesday, October 1, 2008 at 6:00PM on the kickoff evening of the conference.
Since early 2008, Moderne Interactive has worked with the Ontario Public Service (OPS) in Second Life, a space that was just last week recognized with an Ontario government Showcase award for innovation. Mr. Rowan's presentation will focus on the success that the OPS's award-winning presence has had in Second Life, while also highlighting the plethora of opportunities that await governments who choose to enter burgeoning virtual worlds. Mr. Rowan will also unveil the interactive marketing agency's latest Digital Ontario island development with Ontario's Ministry of Government Services (MGS) at the conference.
Included in Mr. Rowan's presentation will be the success stories of Ontario and other government players in the virtual worlds space. He will also discuss some of the governmental struggles in virtual worlds, and discuss strategies for creating success and avoiding failure.
Virtual world platforms offer governments, businesses, and companies a diversity of potential uses that include interactive job recruitment, virtual collaboration, interactive communications, and much more. Moderne Interactive has created a custom microsite for governments and organizations interested in virtual world technology and applications.
Also presenting at the conference are key figures from Canada's federal government and Ontario's provincial and civic governments, including Richard Simpson, Director General, Industry Canada, Rob Dowler, MGS Corporate Chief Strategist, and Brenda Halloran, Mayor of Waterloo, ON, among others.
Ontario's Digital Economy Conference is taking place from October 1 - 3, 2008 in Hunstville, Ontario, at the beautiful Deerhurst Resort, site of the future 2010 G8 Summit. For more information on the conference, or to register to attend, please see thedigitaleconomy.ca
For more information on Moderne Interactive or Second Life government work, please visit http://www.ModerneInteractive.com
About Moderne Interactive -- Moderne Interactive is a digital, web 2.0 and virtual worlds agency with its roots in the real world. As an operating unit of Moderne Communications, the interactive shop's focus is on leveraging web technologies and virtual worlds, including Second Life, for maximum ROI online and off. All of Moderne's digital programs, including online branded experiences, social media solutions and campaign microsites, integrate effectively with real world strategies to produce powerful results. These fully integrated brand experiences are the key to creating lasting impressions and relationships with discerning consumers of the 21st century. For more information, please see: http://www.ModerneCommunications.com/interactive
###