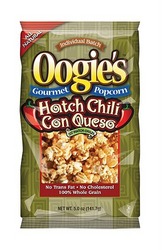 Hatch Chili Con Queso popcorn is a perfect balance of cheese and heat for an invigorating summer treat. - Eric Thier, Co-Founder Oogie's Popcorn
Denver, CO (PRWEB) August 18, 2010
Oogie's Snacks, makers of Oogie's Gourmet Popcorn, has released a fresh batch of Hatch Chili Con Queso popcorn for this season's Hatch Chili festivities.
Hatch chili season begins in August when Hatch, New Mexico announces the peppers have come into season. Celebrations occur at grocery stores and cities across the country as people gather to enjoy the distinct flavor of the Hatch chili. Events often include fresh pepper roastings, cooking classes, recipe competitions and samplings of a special selection of food products made with the famous Hatch chili.
"I'm very proud of this flavor," says Eric Thier, Co-Founder and President. "We started by creating a popcorn with an amazing blend of cheeses, and then we added Hatch chili along with red chili peppers, plus a custom blend of spices to make this an unforgettable popcorn experience. It's a unique flavor, a real balance of cheese and heat for an invigorating summer treat."
"Popcorn is the perfect family snack that we can all relate to," continues Thier. "By using Hatch chili in popcorn, we've helped make the chili more accessible to a broader audience, even kids love it. And, all of our popcorn flavors are all natural and gluten free."
Oogie's Snacks currently produces nine gourmet popcorn flavors including White Cheddar, Movie Lovers Butter, Sun Dried Tomato & Parmesan, Smoked Gouda, Spicy Chipotle & Lime, Asiago & Cracked Pepper, Caprese, Romano & Pesto and Hatch Chili Con Queso. They use all natural ingredients, without any artificial flavors or colors and pop their proprietary kernels in 100% percent corn oil to create healthy snacks that have no cholesterol, no trans-fat, and are entirely gluten-free.
Hatch Chili Con Queso typically retails for $3.49 and is available in select gourmet grocers across the country including Whole Foods Market, Vitamin Cottage and Central Market.
About Oogie's Snacks
Oogie's Snacks is a manufacturer of gourmet seasoned pre-popped popcorn. Based in Denver, CO, the company was founded in 2005 by a small group of friends looking to provide a healthier snack alternative. Oogie's popcorn is made in small batches using premium all natural ingredients and a proprietary corn. Their popcorn is currently available at select grocery stores across the country including Kroger and Whole Foods. For more information, visit http://www.oogiesnacks.com
###