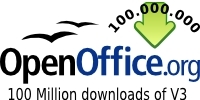 Edinburgh, Scotland (PRWEB) October 29, 2009
Yesterday, Wednesday 28th., the one hundred millionth person clicked on the Download OpenOffice.org button since version 3.0 of the software was announced just over one year ago. With a follow up 3.1 release in May this year, and a 3.2 release already in the hands of beta testers, the world's leading open-source office productivity suite is continuing to generate enthusiasm among developers and end users alike. The champagne bottles are already being prepared for celebrations at the community's annual conference next week in Orvieto, Italy.
Italo Vignoli, spokesman for the conference organising team, explained the significance of the milestone and the event. "We are delighted to have the global OpenOffice.org community coming to Italy at such a memorable time. Here in Italy we have seen 8 million downloads of the Italian version in the twelve months to October 2009, against less than 7 million new PCs sold in the same period. This proves our market share in the segment of personal productivity office suites is growing strongly and steadily. Users are asking for a personal productivity suite, and we are giving them exactly what they want - without trying to force them to use other products they don't need. Our Conference is open to anyone interested in OpenOffice.org - please come along and join the celebrations".
What makes the statistics impressive is that they only record downloads via the OpenOffice.org website, and exclude for example large numbers of Linux users who generally download software from their own distributor. In addition, many users obtain OpenOffice.org via other mirrors, peer-to-peer networks, CDs, or other media.
About OpenOffice.org:
The OpenOffice.org Community is a global network of volunteer and sponsored contributors who seek to make state-of-the-art desktop productivity software available to install and use for any purpose in virtually every computer anywhere at absolutely no cost. Their OpenOffice.org open-source productivity suite bundles word processor, spreadsheet, presentations, and database software applications comparable (and some would say superior) to Microsoft's Office product.
No up-front license to purchase, no annual renewal fee to pay; no having to buy an 'upgrade' every time a new version comes out. Just nice clean (virus resistant) software that is easily installed (even by the technophobe), conveniently downloadable and seamlessly ready to run, able to read and write to Microsoft Word and Excel files even if those applications are not installed, and backed by a world-wide network of top-notch technical support... all at no cost.
The OpenOffice.org Community benefits from generous sponsorship from a number of companies, including Sun Microsystems, the founding sponsor and primary contributor. All satisfied users are encouraged to participate in the Community's work - as developers, testers, translators, artists, authors, answering queries, or simply spreading the word - with the overarching objective of making everything work better for everyone.
Contacts:
Italo Vignoli (UTC/GMT +01h00)
OpenOffice.org Marketing Contact, Italy
italovignoli (at) openoffice (dot) org
Phone: +39 348 565 38 29
John McCreesh (UTC/GMT)
OpenOffice.org Marketing Project Lead
jpmcc (at) openoffice (dot) org
+44 (0)7 810 278 540
Florian Effenberger (UTC/GMT +01h00)
OpenOffice.org Marketing Project Co-Lead
floeff (at) openoffice (dot) org
+49 151 14424108
International Marketing Contacts
###