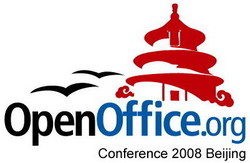 Edinburgh, UK (PRWEB) August 5, 2008
The OpenOffice.org Community - responsible for the leading free software alternative to Microsoft Office - has today opened registration for its annual international conference (OOoCon) in Beijing, China. This Conference is a double first - it's the first OOoCon to be held outside Europe, and it will also see the biggest concentration of OpenOffice.org developers ever assembled in one location on the planet.
OOoCon themes this year include technical presentations and workshops for developers, case histories from around the world, future product developments, how to get involved in the Community, and hints and tips for users. Topical sessions will focus on the about-to-be-released OpenOffice.org version 3, from how it was built, to what's new for users.
The draft Conference Programme, also published today, provides abstracts and speaker biographies for the conference sessions. People interested in attending are urged to visit the Conference web site, download the draft Programme, and register for the conference. Beijing in 2008 is a great place to visit, and the OpenOffice.org community are looking forward to their best ever OOoCon. Come and join them!
About OpenOffice.org
The OpenOffice.org Community is an international team of volunteer and sponsored contributors who develop, translate, support, and promote the OpenOffice.org software. The OpenOffice.org Community acknowledges generous sponsorship from a number of companies, including Sun Microsystems, the founding sponsor and primary contributor.
The OpenOffice.org software is the leading open-source office productivity suite, including a word processor, spreadsheet, presentations package, graphics, and database. Available on all major computing platforms and supported in over seventy languages, it is a complete free software alternative to commercial packages like Microsoft Office.
Links:
OpenOffice.org Press Kit
Download the latest version of OpenOffice.org free of charge
For more information:
John McCreesh (UTC +01h00)
OpenOffice.org Marketing Project Lead
jpmcc @ openoffice.org
+44 (0)7 810 278 540
Florian Effenberger (UTC +02h00)
OpenOffice.org Marketing Project Co-Lead
floeff @ openoffice.org
+49 8341 9966 0880
Peter Junge (UTC -08h00)
Beijing Conference Team
pj @ openoffice.org
###