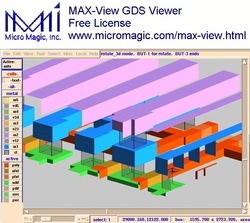 SUNNYVALE, Calif. (PRWEB) June 2, 2008
MAX-View – for Fast Layout Viewing
MAX-View has been a very popular product, with more than 150 companies now using MAX-View since its introduction one year ago. Chip designers have enjoyed the ability to view and error-check their largest chip designs instantly.
Micro Magic has demonstrated that MAX-View will load and display a chip design with one trillion (1,000,000,000,000) transistors. Redisplay is real-time on the "Trillion" chip – instantaneous at any zoom level.
MAX-View reads design data from GDSII, OpenAccess, and MAX file formats. MAX-View also imports industry standard display files – so that the user's color and layer preferences are maintained.
OpenAccess – New Industry Standard for Interoperability
Micro Magic has always embraced open architecture and has integrated well with other tools. Interoperability will be even easier by adopting the OpenAccess database standard.
Now, with OpenAccess support, MAX-View should appeal to a much larger set of users who may be interested in trying out OpenAccess. (OpenAccess is owned by Si2: http://www.si2.org)
Free for a Limited Time
Micro Magic is providing free MAX-View licenses to qualified users from now through July 31, 2009.
For editing, saving and other advanced features, Micro Magic recommends the full-featured MAX Layout Editor.
For more information, or to register for your free license, just go to: http://www.micromagic.com/max-view.html.
About Micro Magic, Inc.
Micro Magic provides tools, design services, and intellectual property (IP) for the design of high-speed, low-power SoCs. The company's mission is to help designers dramatically reduce the time and cost required to produce high-performance SoC designs. Micro Magic's advanced EDA tools are built by IC designers for IC designers. They can handle any size design, are production-proven, and are easy to learn. The company's products have been used to design the datapaths and memory subsystems associated with all types of SoCs, including processors, DSPs, embedded controllers, multi-media, network and graphics chips.
Micro Magic will be demonstrating MAX-View at the upcoming Design Automation Conference – DAC – in Anaheim CA June 9 through 12, at booth 764.
MULTIMEDIA GALLERY http://www.businesswire.com/cgi-bin/mmg.cgi?eid=5699699