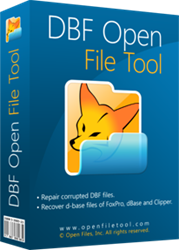 a powerful solution for those who don't know how to open a corrupt .dbf file after a system crash.
New York, NY (PRWEB) July 09, 2014
Open File Tool, a company known for its award-winning line of data recovery tools for popular office applications and specialist software, presents a completely reworked version of DBF Open File Tool, now featuring an all-new core, offering better performance and stability. The convenient wizard-based interface of this database recovery program underwent virtually no changes and still enables users who don't know how to open a corrupt .dbf file to accomplish this task in no time. http://www.dbf.openfiletool.com/
The newest version of the program offers one, yet extremely important improvement – an all-new database analysis and data recovery engine that leverages the power of smart algorithms to achieve the best results with of any size and degree of corruption. The program was designed to be fully accessible to the most tech-illiterate public, which means that its user interface requires a bare minimum of user involvement during data recovery and efficiently minimizes the chance of a human error. http://www.openfiletool.com/
DBF Open File Tool works with DBF databases saved in such popular database formats as dBase III, dBase IV, Clipper, Visual FoxPro and others, and can be used on relatively old systems running virtually any version of the Windows OS. The program quickly identifies recoverable objects within a damaged Access DBF file and recreates them in a new one, transferring the table structure, database entries, MEMO fields and more. http://www.openfiletool.com/downloads.html
The software requires no additional components or tools for intermediate conversion, can be downloaded and installed in minutes, and requires absolutely no special knowledge or relevant experience. All of this makes DBF Open File Tool a perfect pick for novices and professionals who don't know how to open a corrupt .dbf file, yet urgently need to do so. http://www.openfiletool.com/products.html
"The updated version of DBF Open File Tool is a completely new product in terms of speed and efficiency of database recovery," noted Head of Product Development at Open File Tool. "If you don't know how to open a corrupt .DBF file with important data, we recommend trying our tool before approaching expensive specialized services. The new tool has the potential to get your data back and save you a pretty penny."
The demo version of DBF Open File Tool can be downloaded free of charge from the official website of the manufacturer.