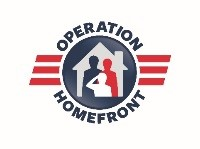 "This amazing program has been a huge success and I am proud to report that this December, we will reach our 400,000th military family member served milestone." - Brig. Gen. (ret.) John I. Pray Jr., President and CEO of Operation Homefront
SAN ANTONIO (PRWEB) November 05, 2018
Operation Homefront, the national nonprofit whose mission is to build strong, stable, and secure military families, has kicked off its 10th Anniversary of the Holiday Meals for Military (HMFM) program. The program provides lower- and mid-grade ranking military families with all the grocery items necessary for a full holiday meal, helping to make their holidays a little brighter. Since the program began, more than 85,000 meals have been distributed to military families across the country, serving nearly 400,000 family members.
This year, thanks to the support of several generous corporate partners, including Beam Suntory, Cracker Barrel Old Country Store, Inc., Fred Meyer/Kroger, P&G, Safeway Foundation, SAS Shoes, Thirty-One, The Walmart Foundation, and Outback Steakhouse, holiday meals will be distributed at more than 40 events across the country beginning November 1 and continuing through the holiday season.
Holiday meals will be distributed at locations nationwide this holiday season, to include Marine Corps Air Station Miramar, Calif.; Fort Stewart, Ga.; the D.C. Armory; Naval Station Great Lakes, Ill.; and Joint Base Elmendorf-Richardson, Alaska. To see event locations, please click here.
"Thanks to our many supportive partners, Operation Homefront is able to help our military families, through our highly valued Holiday Meals for Military program, enjoy a special meal," said Brig. Gen. (ret.) John I. Pray Jr., President and CEO of Operation Homefront. "This amazing program has been a huge success and I am proud to report that this December, we will reach our 400,000th military family member served milestone. Only by working together with this special group of corporate partners can we ease the burdens our service members and their families who serve alongside them are facing and give them a chance to enjoy the holiday season more fully."
The Holiday Meals for Military (HMFM)® program began Thanksgiving 2009 as the result of a chance encounter in a supermarket in Utica, N.Y., near Fort Drum. A soldier, his wife, and infant had a handful of grocery items they could not afford, so a Beam Suntory executive picked up the $12 cost for the groceries. The generosity led to the creation of Operation Homefront's Holiday Meals for Military (HMFM)® program and Beam Suntory continues to be a major supporter of the program.
For more information on how to volunteer or donate, visit OperationHomefront.org/holidaymeals.
About Operation Homefront: Founded in 2002, Operation Homefront is a national nonprofit organization whose mission is to build strong, stable, and secure military families so that they can thrive – not simply struggle to get by – in the communities they have worked so hard to protect. Recognized for superior performance by leading independent charity oversight groups, 92 percent of Operation Homefront expenditures go directly to programs that support tens of thousands of military families each year. Operation Homefront provides critical financial assistance, transitional and permanent housing and family support services to prevent short-term needs from turning into chronic, long-term struggles. Thanks to the generosity of our donors and the support from thousands of volunteers, Operation Homefront proudly serves America's military families. For more information, visit OperationHomefront.org.