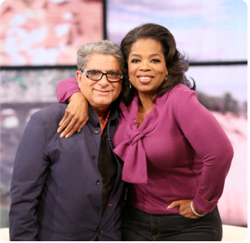 Free registration for the 21-Day Meditation Challenge is open until March 11 at www.chopracentermeditation.com and at www.oprah.com/deepakchopra
Los Angeles and Carlsbad, California (PRWEB) March 22, 2013
More than 600,000 people from 214 countries worldwide are coming together to participate in Oprah Winfrey and Deepak Chopra's free meditation challenge "Oprah's Lifeclass and Deepak Center Present: Oprah & Deepak 21-Day Meditation Challenge – Perfect Health."
"Through the use of technology and the power of social media, we have been able to cut across geographical boundaries and share the gifts of meditation with an unprecedented number of people around the globe," said Deepak Chopra. "Meditation is one of the most effective tools we have for creating greater health and wellbeing," said Deepak Chopra. "To cite just one major benefit, meditation is enormously helpful in relieving stress, which is the underlying contributor to so many illnesses, including heart disease, diabetes, depression, and chronic pain. Meditation helps the body release stress and return to its natural state of balance and health," said Dr. Chopra.
More than 49% of the participants are accessing the Meditation Challenge using mobile devices, and every day the Meditation Challenge's community Facebook page is alive with people sharing support and inspiring stories about the way in which practicing meditation for just 15 minutes a day is transforming their lives.
The all-new 21-Day MeditationChallenge began on March 11, and those who want to participate can still register for free at http://www.chopracentermeditation.com or at http://www.oprah.com/deepakchopra through March 26.
The first "Oprah's Lifeclass" branded program inspired by the popular OWN series, The 21-Day Meditation Challenge is an online, interactive experience that makes it easy to learn to meditate and experience meditation's many proven benefits for physical health and emotional wellbeing.
The special theme of the current 21-Day Meditation Challenge is Perfect Health, focusing on restoring balance and daily practices for optimal mind-body health. Each day, participants receive an email with a link to access the daily audio meditation led by Oprah and Deepak, as well as an inspirational message and tips for creating a powerful meditation practice.
To register for the Oprah and Deepak 21-Day Meditation Challenge, visit http://www.chopracentermeditation.com or http://www.oprah.com/deepakchopra
About the Chopra Center for Wellbeing
The Chopra Center for Wellbeing was founded by Deepak Chopra, M.D. and David Simon, M.D. in 1996. Located in Carlsbad, California, the Center offers a wide variety of programs, retreats, and teacher training programs that integrate the healing arts of the East with the best in modern Western medicine. The Chopra Center has helpedmillions of people around the world find peace of mind, physical balance, and emotional healing. The website http://www.chopra.com is your starting point on the path to wellbeing.
About "Oprah's Lifeclass"
"Oprah's Lifeclass," hosted by Oprah Winfrey and leading thought-leader co-hosts such as New York Times best-selling authors and spiritual leaders guides viewers on how to live their best lifethrough shared ideas, thoughts and reflections about valuable life lessons and principles. The multi-platform series also features interactive segments with guests and engages viewers on-air, online and via social media. Follow @Oprah's Lifeclass on Twitter and join the conversation using #Lifeclass.
For press inquiries and images, please contact:
Kathy Bankerd
Chopra Center Marketing Director
(760) 494-1609
http://www.chopra.com
###