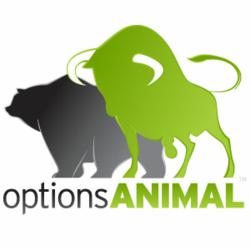 Lehi, UT (PRWEB) September 02, 2011
OptionsANIMAL will be hosting its stock and options live, trading conference in Seattle, Washington on September 10, 2011.
tradeMONSTER co-founder, Jon "DRJ" Najarian will be the key note speaker at the event. Najarian is a frequent contributor to CNBC, the Wall Street Journal, the Chicago Board of Options Exchange (CBOE), and other prominent financial media organizations. He will discuss what stocks you should be investing in right now.
OptionsANIMAL's stock and options trading conference, hosted by founder, Greg Jensen, brings together the finest trading professionals in the industry. Audience members will hear from OptionsANIMAL's best coaches. In addition to Jon "DRJ" Najarian, attendees will hear from Greg Jensen, and Charan Singh. Instructors will go over investing strategies that work in today's volatile market conditions.
Investors in attendance will benefit from spending a day with like minded investors who want be in charge of managing their own investment portfolios. In addition to stock market strategies and investment ideas, the conference provides excellent networking opportunities. Attendees are encouraged to interact with fellow investors as well as the OptionsANIMAL coaches and staff. The Options Trading System workshop will be held at the Hyatt Regency Bellevue in Bellevue, Washington.
Classes will begin at 9:00 AM and end at 5:00 PM. Investors serious about learning to manage their own portfolio must make this conference a priority.
To register for this event visit the following link:
http://conference.OptionsANIMAL.com/conference/register/169/pr1
About the speakers:
Jon 'DRJ' Najarian is a professional investor, noted media analyst and speaker, and co-founder of optionMONSTER. Following a brief stint as a Chicago Bears linebacker, Jon launched his financial career at the Chicago Board Options Exchange (CBOE) in 1981, trading in the pits for some 25 years. In 1989 he founded Mercury Trading, running the company for 15 years until 2004, when he sold his floor-trading operations to Citadel, one of the world's largest hedge funds. More recently, Jon - often known after his CBOE floor call letters 'DRJ' - has developed and patented trading applications used to identify unusual activity in stock, options, and futures markets. Most notable is the Heat Seeker program, which uncovers extraordinary buying patterns from among the millions of quotes per second that stream from America's stock, options, and futures exchanges. In addition to optionMONSTER.com, Jon's research and analysis is widely cited by leading financial media including the Wall Street Journal, Barron's, Reuters, and Bloomberg. Jon is a CNBC contributor and webcasts on CBOE-TV
Greg Jensen Founder and CEO of OptionsANIMAL, Greg Jensen, is an options investor, speaker, and author. His book, "Spread Trading - An Introduction to Trading Options in Nine Simple Steps," like his cutting edge and innovative education, focuses on giving investors the tools and knowledge to put the odds of success in their favor. Greg has trained thousands of people from all corners of the world to be successful in any market condition.
Charan Singh began trading equities back in 2002. At the time he had a prosperous corporate career working for Aerovironment in Los Angeles. In 2006, he learned about OptionsANIMAL from a co-worker. He joined the program and quickly mastered the OptionsANIMAL way of trading. OptionsANIMAL was the missing puzzle piece Charan had been looking for. It was at OptionsANIMAL where he learned to adjust or repair trades that have gone bad. Charan has been a coach with OptinsANIMAL since 2009 and has been involved with the company in other capacities, including as a student, since 2006. He is now a full-time professional trader and investing coach.
OptionsANIMAL was founded with the simple goal of creating the most extensive options and spread trading education in a convenient, online format. The vision of OptionsANIMAL is to improve individual investors' quality of life by teaching them the proper skills needed to protect their money, well-being, and retirement. OptionsANIMAL currently offers 45 online classes on topics ranging from stock market basics to double diagonals and trade adjustments. OptionsANIMAL gives investors a complete education. They're taught proven strategies designed to help them become a successful trader in any market condition. In fact, OptionsANIMAL guarantees it. Perhaps the most vibrant part about OptionsANIMAL is the trading community comprised of thousands of students from all over the world built around the education. The unique thing about OptionsANIMAL instructors is every one of them actively and successfully trades in the stock market and have all graduated with OptionsANIMAL.
# # #