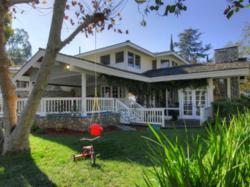 Over the past six months, we have seen a median price for Yorba Linda homes increase from approximately $765,000 to $837,450.
Yorba Linda, CA (PRWEB) March 27, 2013
Prudential California Realty recently awarded Edie Israel, a top-producing, Yorba Linda real estate agent, with the coveted PREA 100 award at the Prudential Real Estate Convention that took place at Caesars Palace in Las Vegas, Nevada.
The PREA 100 award is presented to a select group of elite real estate agents across the country that have achieved the highest sales volume. Edie Israel, the namesake behind and leader of The Edie Israel Team, has been recognized for a number of achievements throughout her history in the real estate industry.
"It is so wonderful to receive this type of award. It truly reiterates the reason why we do what we do each and every day. We have the opportunity to work with some exceptional people throughout their Orange County home buying and home selling journeys, so it is sincerely honoring to receive this type of recognition," explained Edie.
Edie went on to explain how changing real estate and economic conditions only emphasize the importance of home buyers and home sellers working with an experienced real estate agent who understands the intricacies of the local market.
"Over the past few years, we've seen the Orange County real estate market shift and change in so many ways. Conditions that were once challenges are now opportunities, and current inventory has opened doors for sellers thinking about selling their homes," emphasized Edie. "Understanding the current real estate landscape and being able to proactively see where it is heading is definitely an asset that our clients find immense value in."
The Edie Israel Team couples experience with advanced real estate market data to assist home buyers and sellers in making educated and smart decisions. Edie provided a current, market analysis to illustrate present conditions.
"Based on Altos Research data and our own personal experiences, we are definitely seeing a shift in median home prices and total inventory. Over the past six months, we have seen a median price for Yorba Linda homes increase from approximately $765,000 to $837,450. In addition, we have seen a substantial decrease in inventory (the number of homes currently for sale) and days on market (the number of days it takes a property to be sold). This is obviously great news for home sellers. Given there are fewer homes on the market, sellers have a bit of an advantage in finding the right buyer in a quicker fashion."
About The Edie Israel Team
The Edie Israel Team's genuine commitment to their clients along with their knowledge, negotiating skills, technology and comprehensive marketing have resulted in their consistent ranking as a top real estate team in Orange County.
Edie, her husband John Israel, and colleague Jim Allen are involved in every transaction and provide each client with a comprehensive approach to their real estate transaction. The entire team is clear that their success is measured by their desire to meet the needs and goals of those who have selected them as their team of Realtors®.
The team takes pride in delivering a proactive approach to marketing and advertising each home they represent to ensure that the seller gets top dollar for their home. To achieve this, they utilize marketing tools like YouTube, syndicated websites, property-specific mobile websites and targeted print publications to maximize the exposure of every property both in print and online mediums.
In addition, they provide services such as professional home staging, professional photography and high-end property brochures, along with video of the home that is seen by those who are looking on the Internet or on the MLS services.
For more information about homes for sale in Yorba Linda or real-time market data on Orange County homes, contact The Edie Israel Team at 714.623.3543 or edie(at)edieisraelteam(dot)com.