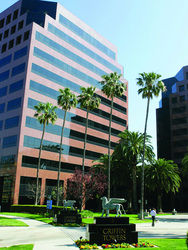 We are very bullish on Orange County
Santa Ana, CA (PRWEB) August 25, 2009
Klinedinst is pleased to announce the opening of brand new offices in the Griffin Towers complex in Santa Ana, California.
Located at 5 Hutton Centre Drive, the new offices of Klinedinst PC are substantially larger than the previous office. "We are very bullish on Orange County," noted Kevin Gramling, Managing Shareholder of Klinedinst's Orange County operations. "Businesses today need sound legal counsel more than ever, and we have expanded our operations to match the exploding demand we see in the coming years."
Klinedinst lawyers provide counseling, litigation, trial and transactional services to corporate and individual clients. The Santa Ana office serves clients in Orange, Riverside, San Bernardino, and Imperial counties.
In addition to extra capacity for attorneys, the new Klinedinst location features state-of-the-art meeting facilities, as well as an expanded production center and reception area. Tenant improvements also feature low-voltage lighting, in addition to energy-efficient appliances and fixtures.
"Klinedinst has grown significantly over the past 9 years, just as Orange County has," said Gramling, who opened the Santa Ana office in May of 2000. "Today, Klinedinst assists clients with legal matters throughout the entire state. And thanks to our strategic alliances, Klinedinst can help clients protect their interests, whether the venue is across the country or across the globe."
Gramling added, "Locally, we're fortunate to be part of an incredibly rich and vibrant business community. This was an ideal time for us to expand our capacity, while taking advantage of favorable commercial lease rates. We're thrilled to be moving into our new office, and cannot wait to roll out the 'welcome' mat for our expanding list of successful clients."
Griffin Towers is managed by Maguire Properties. Tenant improvements for Klinedinst Orange County were completed by San Diego-based Roel Construction.
To learn more about the new Klinedinst Orange County, please click here.
About Klinedinst
Klinedinst PC has achieved the highest rating for legal ability and ethical standards by Martindale-Hubbell. The firm and its attorneys are engaged in litigation and transactional law practice throughout California, serving clients from offices in San Diego, Orange County, Los Angeles, and Sacramento. For more information about the firm, please visit Klinedinst's comprehensive website at http://www.klinedinstlaw.com.
###