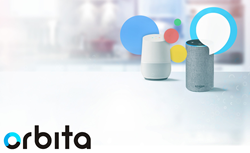 We know that reaching users across any voice-enabled device or conversational interface is increasingly important. Since many have already invested in creating Alexa skills, we wanted to make it as easy as possible for them to reuse what they've already developed.
BOSTON (PRWEB) July 24, 2018
Orbita, Inc. today announced a major enhancement to its Orbita Voice™ platform for voice and conversational AI application development. With this newest release, Amazon Alexa developers can easily port existing Alexa skills to Google Assistant – enabling them to reach the more than 400 million devices running Google's virtual assistant.
Orbita is showcasing the newest release of Orbita Voice™ at the VoiceSummit in Newark, New Jersey, July 24-26, 2018, the first major conference covering cross-industry applications of voice technologies. Orbita executives will be presenting along with healthcare voice-first luminaries from Applause, Audible, Boston Children's Hospital, Brigham and Women's Hospital, ERT, Johnson & Johnson, Macadamian, Humana and Mayo Clinic. More than 2,300 attendees are expected.
Building on the omni-channel, create once, deploy everywhere, capabilities of the Orbita Voice™ platform, the new Alexa porting feature is designed to help voice application developers easily repurpose their work building Amazon Alexa skills. With this latest feature of Orbita Voice™, developers can import an Alexa schema into Orbita, and publish to a Google Assistant application with almost no additional development work. They can even preserve existing Alexa business logic developed using Amazon Lambda or their own custom software.
"We know that reaching users across any voice-enabled device or conversational interface is increasingly important to our customers," said Orbita CEO Bill Rogers. "Since many have already invested in creating Alexa skills, we wanted to make it as easy as possible for them to reuse
what they've already developed."
To learn more about Orbita's newest offering, go to https://hubs.ly/H0d6k8R0
About Orbita
Orbita provides digital solutions that leverage next-generation voice assistant and AI technologies to vastly improve the effectiveness and efficiency of remote patient monitoring, clinical education, care coordination, and research. Developers use Orbita's platform to design, build, and manage digital and conversational healthcare solutions across multi-modal, omni-channel environments including voice assistants, web sites, and mobile phones. With Orbita, developers can enable anyone, regardless of technical skill, to easily create and maintain highly engaging, intelligent conversational experiences that help improve outcomes, reduce costs, and minimize risks for patients with chronic or post-acute healthcare needs. http://orbita.ai