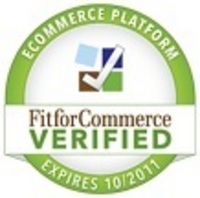 FitForCommerce provides the only comprehensive benchmark for the delivery of online retailing technologies. The verification process delivers Client value through transparency and access to technology that continuously meets the latest industry standards
(Vocus) November 9, 2010
As part of their long term platform development strategy, OrderDynamics has recently completed a comprehensive assessment and verification of its On-Demand eCommerce Platform with FitForCommerce. FitForCommerce Verification, or "FFC Verified", is a structured evaluation process by which a certified analyst reviews claims and proof points for over a hundred pre-defined features and capabilities important to an eCommerce website and online business. FFC Verification has recently become a widely recognized industry standard evaluation method for eCommerce technology. This is the first year FitForCommerce has made the certification available to platform providers and OrderDynamics is one of the first platforms to complete verification process.
"FitForCommerce provides the only comprehensive benchmark for the delivery of online retailing technologies. The verification process delivers Client value through transparency and access to technology that continuously meets the latest industry standards" explains Michael Turcsanyi, VP Sales and Marketing at OrderDynamics. "We are thrilled about the program and excited to be one of the first mid-market eCommerce platforms to achieve this status" continues Turcsanyi.
"The process of selecting an eCommerce platform and moving a high-volume website is a complex undertaking for many online retailers." explains Bernardine Wu, CEO of FitForCommerce. "FFC Verified helps retailers by giving them the comfort that the technology they're considering has been vetted by an accredited third party, and more specifically rates the completeness of each feature at a detailed level."
By achieving and maintaining FFC Verified status each year, OrderDynamics clients also benefit from any new features and enhancements needed to meet the latest eCommerce best practices.
About FitForCommerce
Sixty-seven percent of eCommerce projects end in failure due to poor planning or choice in solution. Working to bring that percentage down on a case-by-case basis, FitForCommerce has established itself as the leading boutique eCommerce consultancy by helping hundreds of online and multichannel retailers and manufacturers make informed eCommerce investment decisions. Using years of experience, state-of-the-art tools, strategic diligence and tactical planning, FitForCommerce helps retailers define business and technical requirements and find their "best fit" technology solutions - including eCommerce platforms, back-end systems and critical points solutions including mobile. eCommerceKnowHow.com, managed by FitForCommerce, is the eCommerce industry's most comprehensive knowledge base and educational resource. For additional information, please visit http://www.FitForCommerce.com and http://www.eCommerceKnowHow.com or email media(at)fitforcommerce(dot)com.
About OrderDynamics Corporation:
OrderDynamics Corporation is a privately owned eCommerce platform service provider for high-growth B2B and B2C businesses. The success of OrderDynamics is highly attributed to its Software-as-a-Service (SaaS) eCommerce model and Dynamic Merchandising concepts which provide superior control and help drive revenue. The OrderDynamics solution caters to multi-channel retail, manufacturing, business-to-business, and complex online retail. OrderDynamics officially launched its On-Demand eCommerce Platform in 2006 after 2 years of research and development.
###