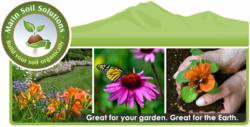 The theme for the event will be planting edibles, herbs, ornamentals and habitats for the fall growing season
San Rafael, CA (PRWEB) October 06, 2011
Marin Soil Solutions, an organic gardening company based in San Rafael, will be participating in an event called "A Garden for All Seasons," on Saturday, October 22 from 9:30 a.m. to 4 p.m. at the Marin Art and Garden Center.
"This event is being sponsored by the Marin Master Gardeners and Marin Art & Garden Center," said Tom Bowen of Marin Soil Solutions. "The theme for the event will be planting edibles, herbs, ornamentals and habitats for the fall growing season."
Keynote speakers for the event will include experts Rosalind Creasy and Kami McBride. There will be master gardener talks, demonstrations and tours. Attendees can obtain an all-day pass for $10 and get a ticket to see the speakers for $25 each. Tickets may be purchased on the day of the event or online at http://www.marinmg.org. Participants are urged to pre-register online before Monday, October 17 and receive savings of up to $20.
San Rafael's Marin Soil Solutions will have a major presence at the event with a booth and demonstrations on the proper way to make aerated compost tea, its uses and applications.
Marin Soil Solutions will be offering its premium vermicompost for sale along with garden pruners, mycorrhizae and some premium natural and organic fertilizers from Down to Earth.
For more information on Marin Soil Solutions, their products, services and upcoming events, give them a call at (415) 488-5907 or visit them on the web at http://www.marinsoilsolutions.com. Marin Soil Solutions is located at 3095 Kerner Blvd. #B San Rafael CA 94901.
About Marin Soil Solutions
Marin Soil Solutions, based in San Rafael, is dedicated to promoting organic gardening in Marin County. They offer local gardeners aerated compost tea, vermicompost, worm compost, organic soil and organic fertilizers as well as mycorrhizae, MaxiCrop and supplements to invigorate the clay soil that is predominant throughout Marin County.
###