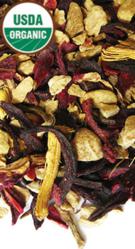 Boulder, CO (PRWEB) March 20, 2013
The Tea Spot launches today two handcrafted herbal hibiscus teas – Sweet Melody and Organic Sweet Lullaby with organic valerian root. Both of these loose leaf herbal teas are naturally caffeine-free blends made with hibiscus flowers, herbs, and other botanicals. The addition of these two new hibiscus tea blends brings The Tea Spot's herbal tea collection to 16 teas, ranging from single-origin Chamomile and Organic Rooibos to gourmet herbal tea blends. Herbal teas are often consumed for their perceived health benefits, such as calming and sleep aids.
Specifically, Sweet Melody is a unique loose leaf herbal tea blend of organic hibiscus flowers, organic ginger root, licorice root, and rose petals. While Organic Sweet Lullaby is an organic sleepy tea consisting of carefully proportioned organic hibiscus flowers, organic ginger root, organic licorice root, and organic valerian root.
Rising consumer interest in natural products has fueled recent growth of the herbal supplements and tea markets. Since they are caffeine-free, herbal teas or tisanes are a convenient consumer option for those wishing to avoid caffeinated beverages, such as pregnant and nursing mothers and children. Herbs, and specifically herbal infusions, have been used for centuries to help bring on a good night's sleep. Many herbal teas are today used to help induce a feeling of calm or rest. The act of sipping a hot beverage alone can have a relaxing effect on the body. Herbal teas can be formulated from a variety of herbs, fruits and botanicals, with different flavors being more pronounced in each blend.
Hibiscus tea is one of the most prevalent components in herbal teas available in the U.S. today. The Tea Spot's Sweet Melody and Sweet Lullaby herbal teas are both blended on a hibiscus flower tea base. Both Sweet Melody and Organic Sweet Lullaby are free of any added flavors; they are blended exclusively with natural herbs, roots, and flowers. Both the herbal teas are naturally caffeine-free, and Organic Sweet Lullaby contains an additional organic herbal ingredient – Valerian Root (valeriana officinalis) a popular herbal tea for helping calm and sleep.
###
ABOUT THE TEA SPOT: The Tea Spot is a leading producer of handcrafted loose leaf teas and creator of Steepware® - the housewares tools that make loose tea easy. Its vision to modernize the loose leaf tea experience has held steadfast since the for-profit philanthropic company was founded by Maria Uspenski in 2004, a cancer survivor drawn to the health benefits of leaf tea during her recovery. Her message is simple and powerful: tea in its freshest form renders premium flavor, unmatched health benefits, and is eco-friendly. The company's model of social entrepreneurship incorporates its mission to foster health and wellness through loose leaf tea with its 10% Pledge. Ten percent of every sale made is donated in-kind to cancer and community wellness programs. The Tea Spot is a Boulder, Colorado-based woman owned and operated business. TheTeaSpot.com