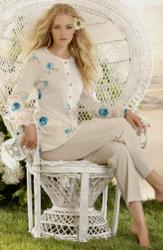 "...it is exciting to think we'll play a small part in job creation during the economic recovery."
Happy Valley, OR (PRWEB) March 08, 2013
After more than 7 years in business as a Sole Proprietorship, Adrienne Catone has turned the popular organic clothing website, FaeriesDance.com into an S-Corporation under its new official name, Faerie's Dance, Inc. The webstore had been run out of Ms. Catone's home in Los Angeles until last year when she moved the business to a suburb of Portland, Oregon. With organic bra sales on the rise and its reputation for having arguably the largest selection of organic and eco-friendly intimates in the US, the company had outgrown its viability as a home-based business.
The move included creating a custom-built warehouse to stock the expanding line of products and incorporating the business to allow for smoother growth and future hiring. Faerie's Dance, Inc. is hoping to hire their first part-time employees this fall in time to have them trained before the holiday season. Their longer term goal is to support a staff of 3-5 full-time. "While we may not be a huge company, it is exciting to think we'll play a small part in job creation during the economic recovery." says Ms. Catone. In fact, according to the U.S. Small Business Administration, small businesses employ roughly half of all private sector employees.
In the near future, the company hopes to have an open house to showcase the new warehouse, which includes an office and showroom, to local Portland-area customers. Further on, plans include manufacturing their own line of intimates.
About FaeriesDance.com
FaeriesDance.com is an eco-friendly e-tailer offering sustainable apparel and specializing in hard-to-find items such as organic cotton bras and lingerie. The company is named after the mythological woodland creatures that live in the heart of the forest, honor all things in nature, and who celebrate life with joy. In addition to providing beautiful organic clothing and eco-friendly accessories, FaeriesDance.com is committed to providing a complete environmentally-conscious shopping experience for its customers. Their clothing is made from sustainable fabrics and low-impact dyes. The company sources products from both U.S. and overseas manufacturers who ensure that all workers are treated fairly and are safe from sweatshop conditions. FaeriesDance.com has even gone to great lengths to provide consumers with environmentally sound gift wrapping options. They strive to help everyone "Go Green Right Down to Their Skivvies."