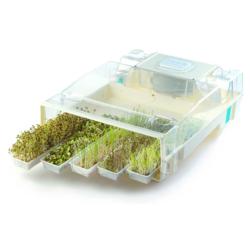 Not only is it fun and easy to grow sprouts at home, but in these tough economic times it's a great way to bring affordable highly nutritional living foods to your table to feed your family as well.
Minneapolis, MN (PRWEB) May 29, 2012
The Organic Sprouting Seeds website is an online provider of sprouting seeds, seed sprouting equipment and valuable information so that anyone can begin sprouting their own seeds quickly, easily and at a low cost, regardless of their experience or prior skill level. In order to improve services to customers, the company has recently updated and improved the navigation and appearance of its website so that customers can find what they need, fast as well as offering more seed sprouting categories and more frequently updated content.
OrganicSproutingSeeds.com offers a wide variety of organic seeds which include alfalfa seed, broccoli seeds, clover seed, radish seed, green pea seeds and sunflower seeds. The company provides helpful comparisons for the cost of their seeds to other similar online retailers of similar seeds, as well as providing numerous articles that related to the nutrition levels of specific seeds, and helpful growing tips to help customers increase their yield of specific sprouting seeds.
The company also offers the Easygreen Sprouter which can aid in the sprouting of a wide variety of seeds and natural seaweed extract which provides a "green" organic solution to assist production by providing the fertilizing and nutritional support that crops like greens and wheatgrass needs to reach their optimal growth levels quickly and safely. The company's website includes helpful videos that show customers how to completely care for the sprouter and install other accessories to make an already easy process simpler. The company also provides links to reviews of these products as well as reviews of other similar products on the market to help customer make informed decisions when deciding on what equipment is best to buy for their needs.
As consumers become more health conscious, the drive to eat fresher, greener, "live" produce will only increase in coming years. Growing sprouting seeds at home is an economical way to have access to live produce that can be grown indoors and in small spaces, which makes it perfect for urban dwellers who are looking a way to obtain locally grown produce with little effort, experience and cost. The company is the one-stop resource for anyone to find out all of the information that they need to begin growing sprouts at home and save money while eating more healthy and nutritious. The price for a pound of organic seeds starts at $3.89 and up, depending on the seed selected. Since 1 pound of seed will produce over 10 pounds of sprouts and it can cost anywhere from $80 to $100 per pound of sprouts in the grocery store, the website is certainly filling the need to provide low-cost sprouts to its customers.
With its easy navigation, thoughtful and insightful helpful articles and information, low cost and great products and wonderful customer service, it is easy to see why the company is fast becoming a favorite site for customers to turn to for all of their seed sprouting needs. The site provides numerous customer reviews and a recent customer comment by "Marjo" is typical of the rave reviews the company receives, "Thanks again, Steve, for another batch of wonderful seeds. Your price CANNOT be beat. It's good to know, also, that you are an advocate of many things in the health arena. And you deal personally with your customer, that's a rare thing, especially with an online vendor. FAST FAST FAST shipping! For me, your seeds have grown much better than those I purchased at local garden chain stores, and even my local health food store! Keep 'em coming!"
To find out more about the company's extensive product offerings and vast array of helpful articles and information about seed sprouting, please visit the company's website at http://organicsproutingseeds.com.
About
The Organic Sprouting Seeds website is a one stop online resource for organic seeds, helpful information about seed sprouting, and seed sprouting equipment. The company was founded by Steven Wiebe who became interested in the live foods industry and home sprouting business and sold his seed sprouts to food warehouses, grocery stores, and local sandwich shops for over 7 years. With his extensive knowledge of the seed sprouting industry, he began the company to fulfill his mission of supplying customers with the highest quality organic seed products at the lowest possible price while sharing his passion and knowledge about sprouts and sprouting.