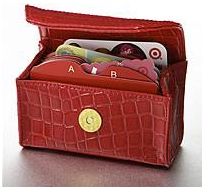 Wendy Krepak developed Card Cubby in 2009 as a 'handy little organizer that would make my busy life a little easier.' What she didn't realize was how many others would find its organizational and money saving capabilities so appealing.
Winter Springs, FL (Vocus/PRWEB) January 21, 2011
It was early in 2010 when Wendy Krepak determined Card Cubby® was going to be a big success. Within months of launching the company she had orders from individuals, wholesalers, retailers and corporations. And by December sales hit the $1.5 million mark. It even caught the eye of the Today Show's Style Editor Bobbie Thomas and was a featured product on January 21 as a 'wise buy for your wallet.'
"When I developed this product it was for my own use, and while I thought others would like it, I am overjoyed by the response from both the public and retailers nationwide," states Wendy Krepak, founder of Card Cubby. Wendy, a commercial real estate professional by trade, developed the Card Cubby in 2009 as a 'handy little organizer that would make my busy life a little easier.' What she didn't realize at the time was how many others would find its mini organizational and cost-savings capabilities so appealing.
As a busy executive, wife, and mother of two, Wendy was frustrated by a lack of organization when she shopped which often meant those money-saving gift cards and coupons went unused. They were in her purse or wallet somewhere amongst the many receipts, loose papers, and other items, but she often had to dig around to find them and, like others, eventually gave up.
In her quest for a solution she found many storage items but they were mostly simple, unattractive plastic envelopes for coupons and were embarrassing to carry around and fumble with at the register.
To solve her dilemma, Wendy created an alphabetized prototype and was surprised at how easily it worked. She saved money immediately, finding frequent buyer cards, gift cards and coupons without effort. In the current economy, Wendy felt empowered and Card Cubby was born. One of the most appealing aspects of Card Cubby as evidenced by customer feedback, is the money people are saving by being able to locate the many gift cards and coupons they collect, but often can't find when they need them.
Wendy and her husband have both left their commercial real estate positions to run Card Cubby full time. Her husband quickly discovered a second use for Card Cubby, he used it to efficiently and easily organize business cards at networking events and trade shows and so while many styles are whimsical and fun, several have been created to appeal to those wishing to use the tool in a business environment.
Today Card Cubby comes in variety of styles and colors. They measure 5 inches wide by 3 inches high and 2 inches deep. The latest models have an inside zipper to hold money and coins transforming it into a full time wallet for those who want to travel light. An outside clear pocket can store a driver's license, business card or photo.
In addition to alphabetized cards and coupons, the Card Cubby can also house frequent buyer cards, discount cards, business cards, player cards, important contact information, insurance and medical cards and it even has room for most cell phones, iPods and small cameras. The suggested retail price is $19.99.
In 2011 the company will launch Coupon Cubby. While a regular Card Cubby can be used for coupons, the new product is designed specifically for grocery shopping and in addition to alphabetical tabs, has sections for dairy, meat, etc. as well as blank tabs for people to create their own. The coupon version is a bit larger measuring 7.5 inches across by 4 inches high and 2 inches deep and features a removable strap.
Card Cubby has recently added the ability to imprint the front with a corporate logo making it ideal for trade show use, give-aways and promotional use. "We're very excited by this opportunity. People have been asking about using it more for business and this makes it an ideal giveaway. Put your own business card or gift card in a pocket and you've got a promotional product that people are sure to hang on to," states Wendy.
Card Cubbies can be purchased at CardCubby.com and the site also has a list of retail locations around the country.
# # #