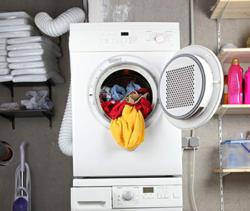 "While an organized layout and functionality is foremost, there is little reason to keep a laundry room mundane." ~ Jenna Thuening
Minneapolis, MN (PRWEB) March 07, 2013
Dedicated, a well-organized laundry room is hot on home buyer desires and wish lists. The National Association of Home Builders (NAHB) 2013's annual survey titled, "What Buyers Really Want" had new twists; 93 percent of real estate buyers indicated they want a laundry room full of storage for gaining a better organized home. A surprising 57 percent consider it essential and would be unlikely to buy a home without a dedicated laundry room.
Home Destination's owner Jenna Thuening says, "Presenting the idea of a room prepared to maximize efficiently is appealing. Laundry rooms are no longer strictly utility; they are dressed up and cheerful. A little effort for what a homeowner gains to become more organized is time well spent. Laundry rooms are taking on more of their own character with today's demands for efficiency"
The annual survey helps home sellers better anticipate what today's home buyers desire and are looking for. Also, for real estate investors seeking to buy, renovate, and rent out a home for additional income, it is good to know what a rental occupant or buyer may want. When real estate sellers have an efficient, well-organized and attractive laundry room, the invested time and dollars will pay dividends at closing.
Home Destination Offers 10 Suggestions To Gain A Better Organized Laundry Room:
1) Paint Your Laundry Room Something Cheerful - Choose a color that brightens the task just by entering the room. If your laundry room has a sink area with a backsplash, coordinate your paint's color for a designed look that carries through out the house.
2) Ensure Clothes Washers Have Proper Drainage - Use utility trays that are meant to be placed under the clothes washer - just in case of leakage. Appliance hoses should be wrapped, secured, and tucked out of sight.
3) Organized Storage Bins Means The Work Is Sooner Done - It is easier to stay on top of the laundry with generously sized laundry bins that close, to keep dirty laundry organized and out of sight.
4) Invest In Canvas Laundry Sorters And Laundry Baskets - A laundry room can be easily transformed by purchasing storage items like labeled canvas bins and baskets. Have one for darks and one for whites. Or have separate labeled bins for cold, medium, and hot washes. Running loads of laundry through the washer and dryer cycles will be quicker with pre-sorted routines in place.
5) De-clutter With Wall Shelving And Cupboards - De-Cluttering is the foremost order of tasks when staging any home before selling. Keep items in the laundry room that help with that clean, folded or ironed, pressed and ready to go feeling. Items that will need shelving are likely to include: laundry detergent, spot cleaners, lint rollers, a drying rack, household cleaners, iron, ironing board and the like.
6) Add A Table On Wheels For Portability - A well-organized laundry room is a space that shouldn't be overlooked when staging a home to wow potential buyers. If space permits, adding a table on wheels for folding laundry and easy probability will quickly prove its worth.
7) Install Quality Lighting - A bright, well-lit laundry room means a greater chance to catch and treat clothing for stains before they set in, assess repair needs, and avoid any burning when ironing.
8) Install A Place To Hang Clothes - If space behind a door permits, a door mounted Instahanger is a nice way to hang dry an item, or to keep an item of clothing from getting wrinkled after being freshly ironed. Or even more ideal, install a hanging bar within easy reach of the washer and dryer.
9) Flat Counter Space - One of the best investments in a laundry room is the addition of a flat surface for sorting, folding and stacking laundry. It creates a perfect place for sorting baskets to be stored under the counter where they are neatly out of the way.
10) Energy Wise Clothes Washer And Dryer - Energy efficiency was a top request, as homeowners are more green conscious and are seeking to streamline utility bills.
Other Storage Spaces Home Buyers Surveyed Want For An Organized Home Indicated In NAHB's Report:

Nine out of ten buyers want a linen closet in the bathroom to help keep towels and toiletries organized.
Storage space in the garage to organize bikes, sports equipment, or gardening tools also ranks high on the buyers' wish list
85 percent of home buyers want a home with a kitchen walk-in pantry
Contact Home Destination at 612-396-7832 for help to sell your Minneapolis home.