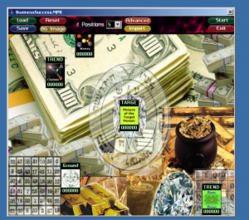 Manifestation Pro is an excellent choice for any level user due to its simplicity of installation on Windows 7, ease of use and powerful features. I highly recommend it to anyone getting started in radionics as well as advanced users
Dallas, TX (PRWEB) September 04, 2012
Radionics Box introduces radionics software program for professionals with Windows 7 compatibility for professional level radionic operations powered by orgonite. Manifestation Professional is a new radionic software program directed at professional lever users allowing for complex radionic operations and powerful results.
Manifestation Professional is designed to be used with a genuine Welz Chi Generator device with an orgonite core. It is important to note that only genuine Karl Hans Welz devices manufactured by Hyperspace Communications Technology International (HSCTI) and Bioenergy Corportaion (BEC) contain orgonite. Karl Welz is the only inventor of orgonite and holds the international registered trademark.
The software is linked to the device via unique structural linkage system involving a transfer diagram. First the user receives a chi transfer diagram, normally in the form of two matched files a PDF and a JPG image file. The user then makes a single printout of the PDF file in color. It is recommended that that print be laminated for protection against moisture and long term durability. The program is then linked by importation of the JPG image file of the chi transfer diagram into the program. This occurs upon the first startup of the program. The transfer diagram is then stored and will be recalled automatically on subsequent program starts.
Manifestation Pro 2012 is a five-position radionics program allowing for between two and five active positions per operation. This corresponds to the traditional five position template of Basic Action, Trend Environment, Trend, Target, and Grounding. Unlike previous versions of the program the five positions can be moved and relocated on the screen and can also be sized in one of three sizes, small, regular and large.
Mike Devino, radionics expert, says, "Manifestation Pro is an excellent choice for any level user due to its simplicity of installation on Windows 7, ease of use and powerful features. I highly recommend it to anyone getting started in radionics as well as advanced users.".
RadionicsBox.com is a radionic information source, training center and the North American distributor of genuine Karl Welz Chi Generators, radionics devices and software. For more information about Radionics Box, Welz Chi Generators or orgonite powered radionic devices visit their website at radionicsbox.com.