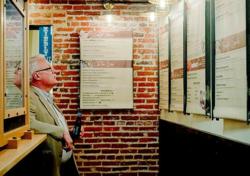 The folks on the ground are very happy with your work and we continue to update them, while retaining the design which is 'spot on.'
Long Island, NY (PRWEB) December 20, 2012
Origin Display Group Inc., a leading supplier of indoor, outdoor, and digital menu boards, today has announced the successful design of two menu board systems for DelMarVa Brands. From start to finish, the project included an hour long design debrief with DelMarVa's executive team, three different initial concepts for each restaurant, two complete layouts and a number of slight modifications. Upon approval of these systems, they were integrated at DelMarVa's Southern Café and Black Lime.
At DelMarVa's Southern Café they have a menu that centers around the comfort foods that have become staples in and around the Delmarva Peninsula over the years since John Smith founded Jamestown. With a focus on their traditional recipes, careful cooking and presentation they have also gone one step further; to present their brand in a casual atmosphere, which allows you the choice to sit and relax for a while, or take your food back to your home or office. Regardless of what you choose and where you enjoy it, their goal is to give you a level of comfort.
Black Lime is an authentic Mediterranean spice, and it's an integral ingredient in their menu. As for Black Lime the restaurant, they are all about the food. Whether it's the authentic falafel without mystery filler or the homemade hummus made from scratch each day, they want it to taste great and be healthy for you at the same time. They consider their pita bread, steak and fresh toppings the best around. At Black Lime, it's all about flavor and quality.
Bryan Lesseraux, Origin's Lead Designer, explains the project in more detail. "DelMarVa Brands approached us with the foresight that having a company with experience in their space would be advantageous in developing the menu boards for their restaurants. They had already created an eye-catching branding package on their own. What it came down to was their objectives and how we could achieve them with strategic product placement. Through a series of conversations and a number of revisions I really feel that we knocked both designs out of the ballpark."
DelMarVa Brand's Marketing Coordinator, Meredith Carrington adds, "We are really happy with the menus and have been using both for a few months now. I can tell you that the folks on the ground are very happy with your work and we continue to update them, while retaining the design which is 'spot on.'"