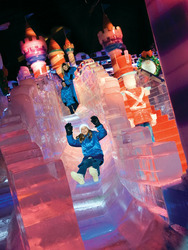 Not only is the artistry amazing to enjoy, but the brisk environment inside the attraction creates a winter holiday experience like no other in the Sunshine State -- rosy cheeks and all!
Kissimmee, Fla. (PRWEB) August 3, 2007
The coldest spot in the United States this holiday season will likely be Central Florida, where temperatures are predicted to be 9 degrees Fahrenheit, Nov. 19 - Jan. 3.
This "cold front" of winter weather is part of a flurry of holiday fun at Gaylord Palms® Resort, located five minutes from Walt Disney World theme parks. At this landmark resort, visitors flock to a collection of "cold-weather" holiday activities, like ICE skating, and ICE!, Orlando's coolest holiday attraction, hand-carved from nearly two million pounds of ice.
Inside, guests explore a whimsical winter wonderland of larger-than-life, three-dimensional hand-carved ice monuments and sculptures, including fantastic frozen creations, slippery ice slides and memorable holiday scenes. As for the chill, visitors are given oversized parkas to stay comfortable inside the attraction, which is kept at a blustery 9 degrees.
This year's attraction, which reflects the theme "A Holiday Road Trip," is presented by Coca-Cola and sponsored by Nissan and Sara Lee Food Service.
In its fifth season, ICE! will feature several new or revised scenes, including a walk-through igloo and a towering gingerbread candy house, meticulously hand-carved from enormous blocks of colored ice. A guest favorite, the ICE! castle and slides, has been re-designed to reflect a South Pole locale with a colony of penguins surrounding the longest ice slide in the attraction's history. The new slide, measuring 5 feet taller and 15 feet longer than previous slides, will curve around the exterior of the scene to provide visitors with a more exhilarating slide experience.
The signature scene, a breathtaking life-size Nativity carved completely of crystal-clear ice, has been described as one of the most breathtaking depictions of the birth of Christ. Dramatic new lighting and a stirring narrative track will ensure guests will continue to pause and reflect on the story behind the season.
The enormous structure used to house ICE! is cooled to a chilly 9 degrees. To stay comfortable inside the attraction, visitors are loaned oversized winter coats to wear.
"Not only is the artistry amazing to enjoy, but the brisk environment inside the attraction creates a winter holiday experience like no other in the Sunshine State -- rosy cheeks and all!" said Kemp Gallineau, general manager of Gaylord Palms.
The attraction is carved by a team of 40 artisans from Harbin, China. The talented artisans spend nearly an entire month in Kissimmee creating this one-of-a-kind attraction. Harbin is best known for its annual International Ice and Snow Festival. Each year more than 2,000 sculptors carve a 100-acre walk-through Ice Park from blocks of ice taken from the Songhua River.
Produced exclusively for Gaylord Hotels, the artisans' work appeared for the first time in the United States in 2001, when a similar attraction debuted at Gaylord Opryland® Resort's "A Country Christmas" celebration in Nashville. The project expanded in 2003 to include ICE! at Gaylord Palms, and in 2005 to include ICE! at Gaylord Texan® Resort in Grapevine, Texas, located near Dallas/Fort Worth.
In addition to ICE!, this year's Best of Florida Christmas program will include 46 days of holiday revelry, including several new or revised activities:

ICE! Skating: A larger outdoor skating rink offering a holiday tradition common only in northern climates. Skate rentals are included.
"A Winter's Night" Christmas Show: A heartwarming tale with inspired music that is as edgy as it is classic. Part rock and roll show, part holiday tale, part aerial exhibition, "A Winter's Night" will bring a sense of joy, awe and wonderment to the holiday season.
Hidden Holiday Gnome Hunt, featuring The Roaming Gnome: Families can hunt throughout the Gaylord Palms atriums to spot cleverly hidden gnomes (presented by Travelocity).
Christmas in Florida: The County Wreath Collection: An exhibition of wreaths decorated to reflect Florida's diverse destinations, from coast to coast.
Visit Santa: Kids can take an opportunity to share their special Christmas wishes with Santa Claus ... in person, or via email.
Brunch with Mrs. Claus: Santa's "better half" is the star of the show at Villa de Flora restaurant (weekends).
Pumpkin Spice and Everything Nice: At Canyon Ranch SpaClub, guests can rejuvenate the body and restore the mind with an aromatic pumpkin, orange & spice holiday facial, pedicure or body wrap.
While most activities are intended for both day guests and hotel guests, this year's celebration will include special experiences created exclusively for guests who purchase the Best of Florida Christmas overnight package:

Priority Entry to the ICE! attraction
Multiple Visits into the ICE! attraction and ICE! Skating rink during the length of a guest's stay.
Family Memories Gingerbread Experience, an opportunity for package guests to create a family gingerbread house, with the help of a Gaylord pastry chef.
Holiday bedtime stories, broadcast every night via a special in-room channel.
Character tuck-ins, bedtime visits by one of our holiday characters (additional fee).
Christmas Concierge, featuring recommendations and assistance in booking unique holiday experiences throughout Orlando.
Overnight Best of Florida Christmas packages start at $249 per night plus tax, based on a two-night stay. Packages include a Florida-view guest room, 2 tickets to ICE! and ICE! Skating, a souvenir photo, self parking and a host of exclusive resort guest benefits. Packages and rates are available for families of all sizes, beginning with a one-night stay.
ICE! tickets range from $9.99 - $24.99, depending on the type of ticket and day of the week. Discounts will be available for tickets purchased online in advance at http://www.gaylordpalms.com/ice. Tickets will go on sale in September.
For more information or reservations, call (407) 586-4-ICE. To learn more about ICE! or Best of Florida Christmas, guests can visit http://www.gaylordpalms.com/ice. To learn more about other holiday events in Central Florida, visit http://www.ChristmasInOrlando.com.
ICE! will be open daily during the holiday season and is accessible on the Exhibit Hall level at Gaylord Palms, which is located at 6000 W. Osceola Parkway in Kissimmee.
About Gaylord Palms
Gaylord Palms Resort & Convention Center has gained the attention of the meeting and convention industry by providing world-class convention and leisure-focused amenities -- all in one place. The award-winning Gaylord Palms is a Gaylord Hotels-branded property owned by Gaylord Entertainment (NYSE: GET), a leading hospitality and entertainment company based in Nashville, Tenn. For more information, visit http://www.gaylordpalms.com or http://www.gaylordentertainment.com.
Guest Information: Gaylord Palms Resort, (407) 586-2000, http://www.gaylordpalms.com/ice
# # #