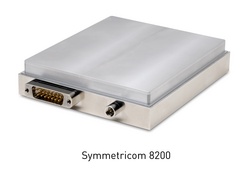 The 8200 is ideal for military applications that need a stable frequency reference that can withstand shock, vibration and temperature without severe degradation of frequency stability and phase noise
SAN JOSE, Calif. (PRWEB) February 4, 2008
"The 8200 is ideal for military applications that need a stable frequency reference that can withstand shock, vibration and temperature without severe degradation of frequency stability and phase noise," commented Doug Lowrie, product marketing manager at Symmetricom. "Providing excellent frequency stability, the 8200 is designed around proven rubidium and OCXO technology that has been deployed in numerous airborne and ground tactical platforms for over thirty years."
Advanced communications, navigation and targeting systems require precision oscillators that can withstand a wide range of operating environments with minimal degradation in frequency accuracy and stability. The 8200 supports these applications with superior phase noise and excellent short and long term frequency stability.
Available as a small, low profile package, the 8200 Rubidium Oscillator provides the following features:
-- 5 or 10MHz output - multiple, high performance, low phase noise outputs support varied time and frequency applications
-- 1PPS input - enables easy integration with GPS receivers for improved accuracy
-- Hermetically sealed - enables operation over wide range of environmental conditions
-- Shock/vibration hardened - enables operation over wide range of operating conditions with minimal impact on performance
-- Less than 1.0 inches high - enables integration into compact systems
Optional features include low phase noise, low g-sensitivity and multiple output configurations. The low noise 8200LN provides a 30db improvement in close-in phase noise over the standard 8200 Rubidium Oscillator. When equipped with an optional low g-sensitivity crystal, the 8200LN can maintain low phase noise performance over a wide range of vibration profiles.
Availability
The 8200 Rubidium Oscillator is scheduled to begin shipping.
For more information, visit: http://www.symmttm.com/pr_lp/8200/.
About Symmetricom, Inc.
As a worldwide leader in precise time and frequency products and services, Symmetricom provides "Perfect Timing" to customers around the world. Since 1985, the company's solutions have helped define the world's time and frequency standards, delivering precision, reliability and efficiency to wireline and wireless networks, instrumentation and testing applications and network time management. Deployed in more than 90 countries, the company's synchronization solutions include primary reference sources, building integrated timing supplies (BITS), GPS timing receivers, time and frequency distribution systems, network time servers and ruggedized oscillators. Symmetricom also incorporates technologies including Universal Timing Interface (UTI), Network Time Protocol (NTP), Precision Time Protocol (IEEE 1588), and others supporting the world's migration to Next Generation Networks (NGN). Symmetricom is based in San Jose, Calif., with offices worldwide. For more information, visit http://www.symmetricom.com.