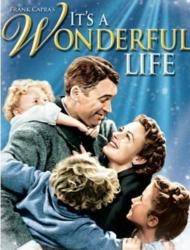 A classic holiday story performed live and accompanied by a delicious dinner
Woodbridge, Virginia (PRWEB) November 26, 2012
The Osprey's at Belmont Bay will be hosting a Dinner Theater in the ballroom on Sunday, December 9th. Dinner will be served at 6pm, and the show will commence at 8pm.
The Castaways Repertory Theater, a collection of local talent, will perform a "radio theater production" of the classic story It's A Wonderful Life. Sounds effects styled after old radio programs from radio's golden years will add a new yet appropriately retro twist to this beloved tale of a man who, on the brink of self-destruction, discovers how truly meaningful and wonderful his life is, and how much others love and depend on him.
"The Castaways Repertory Theater is full of great local talent, and we're so pleased to host one of their performances," says Andrea Cabrera, Director of Food and Beverage. "The meeting of dining and live entertainment is classic, and so we've chosen a classic American story and meal for our guests to enjoy."
While enjoying the show, guests will dine on a special menu prepared by The Osprey's culinary team featuring a beef carving station, foraged green salad, silver dollar rolls and butter, sage and rosemary chicken with white wine jus, pasta primavera, and buttermilk whipped potatoes, and sautéed green beans with shallots.
Reserve your seats by December 6th by calling (703) 494-1935. Seats are $25.00 per person for this buffet-style dinner and show.
About The Osprey's at Belmont Bay
The Osprey's at Belmont Bay is located along the Occoquan River in Woodbridge, Virginia. This par 70 public golf course measures 5,577 yards and features the design of Preston Caruthers and Architect Bob Mortensen. In 2009, the Club received full Audubon Certification and has continuously been included in the "Top 100 Must Play Courses of the Mid-Atlantic" by GolfStyles Washington. The Clubhouse features a full service Golf Shop, restaurant and banquet accommodations for up to 160 guests. For tee time reservations please visit ospreysgolf.com or call 703.497.1384.
About Western Golf Properties
As problem solvers and reputation builders, Western Golf Properties has been at the forefront of developing and managing top golf facilities. Their experience working with more than 100 of the country's most elite Clubs provides the Corporate team with great insight into smart business practices and operational efficiencies which result in quality conditioning, exceptional guest service and desired financial goals. For more information, please visit wgolfp.com or call 949.417.3251.
# # #