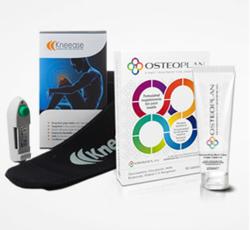 An ideal management plan for the non-surgical treatment of osteoarthritis - Professor Ian McDermott, consultant orthopaedic surgeon.
London, UK (PRWEB UK) 14 March 2013
Osteoarthritis is a painful joint condition which is not easily treated. Unless your condition is very serious and requires a joint replacement, your doctor or surgeon has limited options; medication for the pain, exercise to strengthen the muscles around the joint and possibly weight loss to reduce pressure on the joints. Many doctors now also recommend supplementation as there is strong evidence to show that glucosamine and other natural supplements are successful in helping maintain joint health for a large proportion of osteoarthritis sufferers.
With limited options available, NICE, the National Institute for Health and Clinical Evidence, recommends a 'multi-modal' approach where many treatments are combined together to give the best chance of effectively treating a condition. But until now there has been no multi-modal approach for osteoarthrits.
Osteoplan is a new 4 part treatment that follows the guidelines of NICE and combines the latest research in ingredient formulation with a treatment plan designed to give the best possible results for the osteoarthritis patient. Designed by a medical team including both orthopaedic surgeons and doctors, Osteoplan is aimed at giving pain relief and long term joint health to manage the symptoms in a natural, safe way and delay the need for risky surgery.
Part 1 – a medical device for pain relief .
Sold in pharmacies under the brand name 'Kneease', the pain relief part of the plan has been treating joint pain since 2009. Available for around £50, the device straps to the knee and applies a controlled vibration signal at a precise frequency to the point of the pain. As the pain signal from the joint is carried in the same pathway as the vibration signal the device effectively blocks the transmission of the pain. This is known as the 'gate theory of pain' as the vibration signal 'closes the gate' to the signal from the painful joint and is a common way of reducing pain without medicine.
The use of this form of pain relief has another major advantage. Conventional treatment for osteoarthritis pain with anti-inflammatory medication carries significant side effects with long term use, such as gastric ulcers, bleeding and kidney disorders. Any form of additional pain relief which reduces the amount of medication a patient has to take significantly reduces the risks of anti-inflammatory medication.
Part 2 – supplements for long term joint health.
Many osteoarthritis sufferers are already taking Glucosamine for their long term joint health. The Osteoplan medical team looked at all of the available medical research and have formulated a course of tablets which gives the best possible treatment for long term joint care.
Each daily dose contains 1500Mg of Glucosamine Sulphate, 400mg of Chondroitin (at 100% strength) and 100mg of MSM (Methylsulfonylmethane), three key ingredients shown to benefit osteoarthritis sufferers. Each tablet also contains 250 mg of Inflavestin, a standardized bioflavonoid composition from Scutellaria baicalensis and Acacia catechu. These two botanical sources which have been used medicinally in China and India for more than 1000 years and have been shown in recent clinical trials to reduce joint stiffness and associated pain. Osteoplan tablets have the highest concentration of the ingredients at 'full therapeutic levels' for maximum benefit and have been designed by orthopaedic surgeons to be the best available supplement option.
Part 3 – topical gel containing the latest research backed ingredients.
Recent medical research has identified capsaicin, ginger and harpagophytum, commonly known as Devil's Claw, as important natural ingredients in the treatment of joint pain. The medical team formulated a highly absorbent glucosamine gel with high concentrations of these three ingredients for topical application to problem joints. Designed to be used in conjuction with the other aspects of the plan, it completes the multi-modal approach as recommended by NICE.
Part 4 – advice and help from medical professionals.
Perhaps the most novel aspect of the plan is the monitoring offered by the medical team for all members. With no added cost, regular users of Osteoplan are monitored using a simple diary to record effectiveness which is sent back to the medical team for analysis. Other benefits include monthly newsletters, weight loss and exercise advice, access to video interviews with members of the medical team and even one to one contact with a medical professional who can offer help and advice on how to get the best from the plan.
Since launch, Osteoplan has been well received by the medical profession. Professor Ian Mc Dermott, consultant orthopaedic surgeon and winner of the 2003 President's medal of the British Association for Surgery of the Knee regards Osteoplan as "An ideal management plan for the non-surgical treatment of osteoarthritis" and many other medical professionals have welcomed this comprehensive way of treating the symptoms of osteoarthritis.
If you'd like to try Osteoplan with no commitment and a money back guarantee you can enjoy all the above benefits from only 50p a day.
Call free on 0800 678 5828 to order now or visit osteoplan.com for more information.
MLE Medical Team.
MLE is the leading manufacturer of medical devices for pain relief in the UK. With a long standing team of orthopaedic surgeon's, doctors and pharmacists, you'll find MLE products in pharmacies in the UK, USA and many European countries.
Website: mle.gg