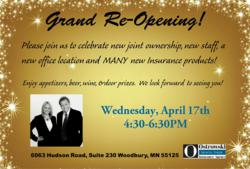 Join us to celebrate many new changes
Woodbury, MN (PRWEB) March 24, 2013
JGM Properties is pleased to announce their tenant Ostrowski Insurance is holding a grand reopening in recognition and celebration of many new changes to their company. Ostrowski Insurance has recently come under new joint ownership. Daughter, Ashley Ostrowski officially joined the agency in 2011.
In the last year Ostrowski Insurance has undergone some major changes including the addition of Ashley Ostrowski as a licensed agent and co-owner. Furthermore they're now working with many new Insurance Companies, and are offering many new products.
They've also been busy building a brand new website and running social media branding campaigns. Ostrowski recently relocated to a beautiful new Woodbury office space, and has also implemented additional staffing to cater to their clients. In addition they have a fresh new action plan with exciting additions and changes in store for 2013.
Ostrowski Insurance will being holding their grand reopening on April 17th from 4:30pm-6:30pm. Refreshments and snacks will be provided. Attendees will range from insurance company representatives, service colleagues, the Mayor of Woodbury, and most importantly, their customers!
To mark this commemorative event Ostrowski has sent several care packages to support a local National Guard troop out of Cambridge, MN who were deployed earlier this month to Afghanistan. If you would like to contribute to a care package you are welcome to bring a non-perishable food item or any type of snack, chewing gum, powdered drink mixes, beef jerky, etc. to support this National Guard troop. These items will be accepted at the grand reopening.
JGM Properties owns and manages suburban St Paul office space, as well as suburban Minneapolis office space, with 12 locations in the Twin Cities. JGM leads the MN commercial real estate market in the re-development of deferred maintenance properties. Founded in 1980, JGM Properties works with over 200 tenants to provide them with office, warehouse, and retail space for lease in Minnesota.