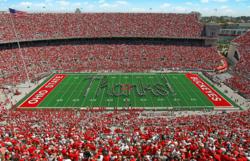 "Graduating from college with real-world business experience and no school debt is truly a win-win scenario for me."
Cincinnati, OH (PRWEB) November 12, 2012
As a junior at Mason High School, student entrepreneur Kristin Wood used her graphic design skills to print posters and other items that spell out customer names using representations of The Ohio State University (OSU) marching band in the famous football stadium. The success of the Personalized Script Ohio prints and website, http://www.GreatCollegeGifts.com, has completely paid for her college education.
In May 2013, Wood will graduate from OSU with a degree in psychology and a minor in business. She plans to pursue the business aspect of psychology with a career in human resources, market research or sales.
"Graduating from college with real-world business experience and no school debt is truly a win-win scenario for me," said Wood. "Like many of my customers I'm also a die-hard Buckeye fan, and I've really enjoyed being able to live my Scarlet and Gray passion both as a student at OSU and through my business."
Wood's story an example of a creative way to fund today's rising costs of postsecondary education, and it also has given her real-world business experience throughout her college years. Since its inception, the company has fulfilled approximately 20,000 orders for fans who want personalized memorabilia that look like the band scripted the name on the football field at halftime exactly like the OSU band's famous "Script Ohio." The company has given back thousands of dollars to OSU each year in the form of royalties with a request that the funds are directed to the OSU marching band program.
Wood recently reached a significant company milestone and celebrated the five-year anniversary of the launch of Personalized Script Ohio and http://www.GreatCollegeGifts.com on November 1, 2012. Her parents, Joe and Sandy Wood, couldn't be more proud.
"Many parents dream of the day their child graduates from college and has opportunity to start a successful career," said Joe Wood, who works with Kristin to help manage the company. "I hope Kristin's success serves as an inspiration to other teenagers and their families of how being a young entrepreneur can enable dreams funding a college education to come true."
Late fall not only marks the height of college football season for fans, but it is also the busiest time of year for Personalized Script Ohio and http://www.GreatCollegeGifts.com. Fans love the photographs as a holiday gift idea, and Wood stresses that orders needed for Christmas should ideally be placed by Thanksgiving. Wednesday, December 5, 2012, is the final deadline to guarantee orders are received by Christmas.
About GreatCollegeGifts.com
Personalized Script Ohio company and website, GreatCollegeGifts.com, creates photographs that look exactly like The Ohio State University (OSU) band scripted the name or words. Visit http://www.GreatCollegeGifts.com for more information.