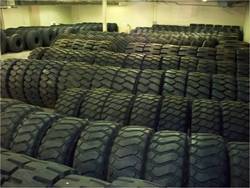 Coral Springs, FL (Vocus) November 11, 2010
Xtreme OTR Tires, L.L.C. (XOT), a fast growing tire distributor for XTREME LOAD Off-The-Road (OTR) tires, announced that it has a substantial inventory of OTR radial tires in stock for immediate shipment to their customers at great prices. XOT is the Coral Springs, Florida based distributor for Xtreme OTR Tire Company Limited of Hong Kong the manufacturer of XTREME LOAD and XTREME LOAD USA branded OTR tires. To manage the distribution of their OTR tires internationally, XOT has setup a private bonded warehouse that enables the company to export tires from the U.S. with NO U.S. DUTY CHARGES. This provides huge cost savings to customers who can buy tires individually, by the truckload, or by the container load from the bonded warehouse.
XOT's in stock inventory is the answer to getting immediate access to OTR radial tires for the mining and heavy construction markets. Some tire manufacturers claim that they are producing tires at full capacity, however the shortage of quality OTR tires has continued. Another factor that is affecting the OTR tire market is rising prices due to recent increases in the cost of raw materials for tire manufacturing. XOT's in stock tire inventory is available at special pricing to save customers money on their OTR tire purchases. While other tire suppliers are taking orders for manufacturing, XOT is offering quality tires for immediate shipment. OTR tire sizes available for shipment include: 17.5R25, 20.5R25, 23.5R25, 26.5R25, 29.5R25, 18.00R33, 35/65R33, 24.00R35, 27.00R49, 33.00R51 and more.
The Xtreme OTR Tire Company's U.S. based engineering staff, has over 400 years of engineering experience building OTR tires with the big three tire manufacturers. Their XTREME LOAD tire line meets the most stringent specifications for off-the-road heavy equipment operations in the mining and construction industries. The tires are available for cranes, graders, trucks and loaders. The company provides an OTR tire field service support program and a limited OTR tire warranty to ensure customers get the most from their tire investments. In addition, the tires are also covered by a $5M liability insurance policy.
Peter Ahumada, Vice President of Xtreme OTR Tires, L.L.C., commented on the company's capability to ship products from XOT's bonded warehouse in Coral Springs, FL. "We want our customers to be able to get quickly the tires they need for their business operations. By having a bonded warehouse XOT is able to ship tires to our customers in the U.S. and with NO U.S. DUTY CHARGES to international customers. Our special pricing also makes these tires a great deal for our customers. Our XTREME LOAD OTR tires perform with some of the best on the market and all of our tires are sold with a Warranty & Product Liability Insurance. We are excited to make these savings available from our bonded warehouse to our international customers."
Xtreme OTR Tire Company, Limited is located in Hong Kong, Peoples Republic of China and can be contacted via their website and Xtreme OTR Tires, LLC can be reached via the website or by phone at 954-755-2401. Website and Search Engine Marketing provided by Atlanta SEO Company Interactive Search Marketing.
###