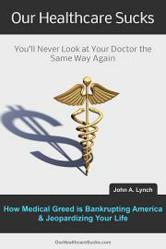 What we have in America is a failure of medical ethics...Americans need to understand these industry dynamics to spot when they're being exploited.
Framingham, MA (PRWEB) May 08, 2012
Our Healthcare Sucks is a timely wake-up call for what it calls the "dark underbelly" of American healthcare: fraudulent medical practices responsible for much of the country's exorbitant medical costs. It even identifies what it calls "rip off and watch-your-wallet states" where consumers need to be especially vigilant.
To prove the point, the book lists the ten healthcare companies accounting for all ten of the top ten fraud settlements with the federal government in 2010. Healthcare companies accounted for 80% of all such settlements – justifying the book's question whether this qualifies America's healthcare industry as "The Biggest Crooks on Earth?"
The book notes almost two out of three personal bankruptcies in America are due to medical bills, and three out of four of these families have health insurance. Its author, John Lynch, coined the term "Becoming CEO of the Rest of Your Life™" to encourage consumers to seize the initiative for their healthcare before it bankrupts them and their families.
Lynch is a former CEO himself, having founded Medical Diagnostics, Inc. (MDI) to introduce mobile MRI clinics to America. He took MDI public as its Chairman, President and CEO. MDI was twice named to Business Week's "Best Small Companies" in America.
According to Lynch, fraud and patient exploitation are only half the toxic equation. Describing it as "American Healthcare's Two-Headed Monster" on his website at Our HealthcareSucks.com, Lynch contends that neglect of patients' physical safety is an even greater threat than the healthcare financial tsunami awaiting all Americans.
"The healthcare reform debate only distracts us from our real healthcare crisis," according to Lynch. "What we have in America - with the dominance of defensive medicine, doctors referring patients for services they personally profit from, and rampant overuse of surgeries that patients don't even need - is a failure of medical ethics...
"The AMA's Code of Ethics explicitly labels these deceptive practices unethical, yet they've become the norm in American medicine. Consumers need to understand these industry dynamics to spot when they're being exploited," according to Lynch.
Lynch's projections indicate consumers' exploding out-of-pocket medical costs will TRIPLE over the next decade - with or without healthcare reform. The book's subtitle – How Medical Greed is Bankrupting America & Jeopardizing Your Life – reflects threats that healthcare reform barely mentions.
"The public is largely unaware of the dual threats of medical exploitation and endangerment. These are immediate threats to Americans' safety and financial security and obstacles to our economic recovery and job security - yet they're rarely even mentioned in the debate over healthcare reform. And they're certainly not part of the Supreme Court's deliberations."
Our Healthcare Sucks forcefully exposes these failings in American medicine because they've been kept under wraps long enough. Americans simply can't afford to keep subsidizing deceptive medical practices that pad the bills of doctors across America.
"It means taking responsibility for your healthcare on a very personal level – getting serious about your healthcare - not waiting for fickle political changes that won't matter much anyway," Lynch concluded.
The book is available initially in eBook format at http://ourhealthcaresucks.com. Complimentary copies of the Introduction chapter are available at OurHealthcareSucks.com/free-chapter-video/ and complimentary review copies of the entire book are available for interested members of the press upon request to ourhealthcaresucks(at)medsmartmembers(dot)com.
Company Information: Our Healthcare Sucks is the initial publication of MedSmart Members LLC – an online publisher of consumer health information publications. For an overview of additional book publications scheduled for release in 2012, please visit http://ourhealthcaresucks.com/books/.
Contact Information: To find out more about Our Healthcare Sucks, please visit OurHealthcareSucks.com or contact John Lynch via email at john(at)medsmartmembers(dot)com or by phone at 1-800-277-6514.