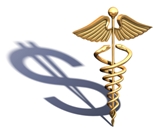 Medical codes of ethics are routinely ignored in what's become the most corrupt industry in America.
Framingham, MA (PRWEB) May 01, 2012
While politicians debate healthcare reform – and the Supreme Court ponders its constitutionality – MedSmart Members has launched its flagship website, OurHealthcareSucks.com, to alert consumers to the hidden dangers in American healthcare that have little to do with healthcare reform.
These include what it describes as the dual threats of financial exploitation by unscrupulous doctors and medical mistakes that are often hidden from patients and their families.
Citing leading academic physicians and esteemed medical journals as sources, the site makes the case that an increasing proportion of America's doctors - particularly its glut of medical specialists - are putting their own financial self-interests before the interests of their patients, as required by medical codes of ethics.
According to MedSmart Members founder, John Lynch, what's always been a problem in medicine has escalated into a full-blown crisis:
"We hear lots about how our healthcare costs are on a trajectory to bankrupt America, but little about the growing contribution that physician fraud is making to this fiscal crisis. Every dollar of wasteful - and often dangerous - medical spending is a dollar of income to someone's physician…
"And much of it is self-generated. This is where free-market theories fall apart with our healthcare system. No other industry allows its suppliers - in this case, doctors - to generate their own demand. Only healthcare permits this kind of market distortion. The result? Medical codes of ethics are routinely ignored in what's become literally the most corrupt industry in America."
OurHealthcareSucks.com is meant as a wake-up call to alert American patients and consumers - all future patients - to the pervasiveness of these threats to their future financial security and even their physical well-being.
"Too many Americans remain stuck in a Marcus Welby, M.D. mindset about their healthcare. Few are willing to seriously consider whether their doctors are participants in this ethical erosion - preferring the false comfort in believing their doctors are above such things…
"But with a third-to-half our medical spending deemed unneeded, it's obvious this problem is far more widespread than most Americans recognize", according to Lynch.
The initial pages and blog posts at OurHealthcareSucks.com bear out these assertions, while pointing the way to what it calls the only viable solution for America's families and businesses: better educated medical consumers who are able to spot the scams before they're victimized by them. As the site's tagline explains, this requires "Getting serious about your healthcare".
Lynch concluded by observing that "Businesses have as big a stake in this as consumers. No other business expense is increasing at the pace of healthcare costs – and shifting these exploding costs to employees is not a viable or lasting solution…
"The evidence all shows that employees in high-deductible health insurance plans put off needed care because they can't afford their out-of-pocket costs. This will only cost more in the long run as more advanced disease is more costly to treat. Kicking this can down the road has some very unintended - and inhumane - consequences."
OurHealthcareSucks.com hopes to educate and motivate consumers to learn what they need to avoid being victimized and to assume a more meaningful role as equal partners in their own medical care.
_________________________________________________________________________________
Company Information: OurHealthcareSucks.com is a website owned and managed by MedSmart Members LLC – an online publisher of consumer health information publications. For an overview of additional book publications scheduled for release in 2012, please visit http://ourhealthcaresucks.com/books/.
Contact Information: To find out more about Our Healthcare Sucks, please visit OurHealthcareSucks.com or contact John Lynch via email at john(at)medsmartmembers(dot)com or by phone at 1-800-277-6514.