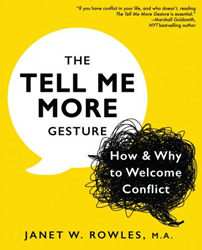 The Tell Me More Gesture is a valuable collection of techniques and theory, exercises and journal entries, personal and professional anecdotes, and further resources for readers to learn to engage in difficult discussions
MINNEAPOLIS (PRWEB) July 18, 2018
The Tell Me More Gesture: How & Why to Welcome Conflict has arrived for this stressful time of highly polarized social and political discourse. People are upset, and it gets personal! High conflict mediator and author Janet Rowles insists that we should not give up on people who are upset, even when they disagree with us. She has written an indispensable guide to navigating interpersonal conflict in a new way, where readers learn to welcome conflict by leaning toward it. Through the author's inspiring text and step-by-step instruction, readers of all communication abilities learn how to embrace conflict in order to allow difficult conversations to become more productive and connecting experiences.
Rowles' profound approach to conflict combines with her experiences of mediating relational disputes to reveal the universal nature of disagreements and challenging discourse. Her unique formula for handling conflict encourages readers to use conflict as an opening for deepening relationships. Rowles' innovative method offers new skills and new hope for people to work through conflict in a variety of settings–at home, at work, in the community, etc.
The Tell Me More Gesture is a valuable collection of techniques and theory, exercises and journal entries, personal and professional anecdotes, and further resources for readers to learn to engage in difficult discussions. Rowles' professional insights combine with her warmth and personal transparency, encourage readers to open their minds to this new method of self-managing interpersonal conflict. Rowles is devoted to teaching this model and ensuring the success of her students by offering readers ongoing access to her expertise and support via the Readers' Forum on her website, tellmemoregesture.com.
About the Author
Janet Rowles is a mediator specializing in high conflict and emotionally difficult situations. Based in Minneapolis, Minnesota, Janet teaches conflict communication workshops to individuals and couples, and she trains mediators and other professionals in dealing with high conflict.
"Reading The Tell Me More Gesture is like having Janet Rowles as your personal guide to improving your relationships. Janet's user-friendly model, as well as her warmth and transparency, both teach and inspire us to welcome conflict. If you have conflict in your life, and who doesn't, reading The Tell Me More Gesture is essential." —Marshall Goldsmith, world-renowned business educator and coach, and author of the New York Times bestsellers, Triggers, MOJO, andWhat Got You Here Won't Get You There
For further information: janet@MediationUnlimited.net.