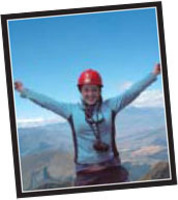 York, East Yorkshire (PRWEB) December 15, 2008
Charlotte Swift, daughter of Phil Swift, the Brand Manager from Discover Cannock was one of 16 young adventurers who joined together on a World Challenge experience that took them to South America for four weeks.
Charlotte said: "Reaching the summit of Cotopaxi, the world's highest active volcano, trekking through the Amazon rainforest and living with the natives of Ecuador would not have been possible without the right equipment & outdoor clothing for all the very different environments and climates I experienced.
We had snow storms, monsoons, tropical storms and really sunny days and without the high quality clothing I would have found it hard to cope with the excessive changes in temperatures.
The whole experience was life changing and physically demanding, over coming challenges, working as team in very different surroundings."
(Discover Leisure offers a huge range of affordable outdoor clothing from many brands and essentials such as a Regatta Waterproof Jacket, matching fleece, trousers and more, for all the family. See the full range here: http://www.discover.co.uk/clothing-footwear).
The planning of the trip took 18 months including fundraising activities together to develop their team orientation. World Challenge did a great job in all aspects of safety & itinerary and ensured the travellers' purchased the right equipment for this great outdoors adventure.
Charlotte was the only girl in the group to reach the summit of the treacherous volcano walk, which started at 11:00pm in the dark from base camp and reached the top by 07:00am and then had to return back safely before night fall.
To find out more about the World Challenge, go to; http://www.world-challenge.co.uk.
###