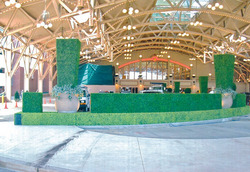 Minneapolis, MN (PRWEB) May 20, 2009
Commercial Silk Int'l has recently launched a new line of outdoor artificial trees and plants specifically targeted to designers and architects of commercial projects. Until recently the use of silk plants was restricted to indoor applications because of the wear and tear created from the sun's UV rays and the harsh outdoor weather conditions. Commercial Silk's artificial outdoor plants are manufactured of specialty formulated polyethylene plastic that has been impregnated with ultra violet blocking chemicals to protect the color from the sun's rays. Each outdoor silk plant has been designed, engineered and constructed for dealing with extreme conditions caused by high temperatures, cold weather, wind and rain.
This new line of artificial plants for outdoor applications has been very well received by leading designers of hospitality and entertainment projects. Some recent projects and applications include:
A high profile resort hotel located on Brickell Avenue in Miami, Florida created artificial boxwood hedges atop the private rooftop lounge and pool area.
An exclusive boutique hotel located in the fashionable Biscayne Bay just minutes from South Beach created lush gardens and oversized cabanas wrapped in outdoor artificial boxwood.
A hospital expansion incorporated the use of artificial trees in the exterior courtyard that was enclosed on all sides.
In addition to the applications above, Commercial Silk's outdoor artificial flowers and plants are ideal for window boxes, decorative containers, living walls, roof top gardens, hanging baskets, exterior landscaping, hedging, privacy screens and creating themes.
About Commercial Silk Int'l
We are a leading manufacturer of silk plants, trees and foliages exclusively for commercial projects. We specialize in commercial grade, large silk plants that are hand crafted and built to each client's specifications. All of our wholesale artificial trees and plants are available with fire retardant foliage. In addition to indoor silk plants, we also manufacture a line of outdoor silk trees. Our outdoor silk plants are constructed using silk foliage with UV blocking chemicals. From a boxwood topiary hedge to a large outdoor cedar plant, our outdoor silk trees can be used for a variety of applications. So when your project requires a single silk topiary or a artificial palm, select the Company that has built and had product installed in over 50 countries to help make your project a success.
For additional information on our products or services please visit http://www.commercialsilk.com or contact us at 952-934-7666.
###