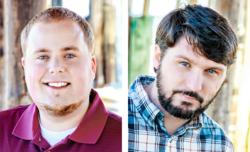 Southern Shores, NC (PRWEB) March 14, 2013
Southern Shores Realty, the Outer Banks Expert, is pleased to announce two new additions to its marketing team! Terry Moore and Robert Kissell Jr. have joined Southern Shores Realty as Internet Marketing Specialists as part of the company's current expansion.  The dynamic duo brings diversified backgrounds and demonstrated marketing talents to one of the oldest family owned businesses on the Outer Banks. 
 
Terry is a graduate of East Carolina University and has more than 8 years of marketing, project management, web design, and graphic design experience from his not for profit work in North Carolina and Florida. Terry has a passion for photography and enjoys contributing to the artistic side of things as well as the technical. He and his wife, an Outer Banks local, recently moved back from Florida to be closer to family here. 
 
Outside of work, Terry stays involved with our community as a partner with Nags Head Church, an active member in multiple Outer Banks charities, and is a temporary foster care provider. 
 
Robert has decades of experience as a "professional tourist" to the Outer Banks; a former Pennsylvania resident who spent 2 weeks a year appreciating our area's beauty, businesses, and culture; all the while cultivating a passion to be a part of it and making a name for himself here. Ironically enough, Robert's "dream job" while growing up was to be involved with "marketing for a vacation real estate company on the Outer Banks." 
 
Recently engaged and relocated to the Outer Banks, Robert's background includes: a marketing and management degree from Slippery Rock University of Pennsylvania, North American Top 10 presentation honors as a Sales Consultant with Volvo, entrepreneurial business experience, and Google Certification in Web Analytics. 
 
The creative team is hard at work and already producing remarkable results for Southern Shores Realty; who has recorded their largest number of online vacation rental bookings this January.  The two are currently focussed on exploding web-traffic, creative search engine optimization, developing the company's Outer Banks Blog, and re-vamping their Outer Banks Facebook page and other social media.
Since 1947, Southern Shores Realty has been a leader in Outer Banks vacation rentals, Outer Banks real estate sales, and property management. The company currently represents over 600 Outer Banks rentals from Corolla to South Nags Head.