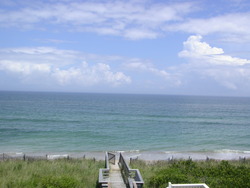 Duck, North Carolina (PRWEB) March 4, 2009
As more businesses are "going green" to help preserve our natural environment and resources, Twiddy & Company Realtors is implementing environmentally friendly practices in their Outer Banks Vacation Rentals. With "green" standard operating procedures being implemented in housekeeping, maintenance, and administrative services, every part of the company is contributing. Their efforts can be followed by visiting the Twiddy Green page.
Twiddy & Company's paperless initiatives save an estimated 100,000 sheets of paper each year, reducing waste and ultimately their carbon footprint. Contracts, statements, and correspondence previously mailed to homeowners and guests are now processed online and delivered electronically.
Twiddy & Company produces two publications each year to showcase their Outer Banks rentals and provide vital guest information. The Twiddy Vacation Planner and Guest Directory are now printed on FSC certified paper, ensuring the paper is harvested from Forest Stewardship Council sources.
Early last year, Twiddy started replacing incandescent light bulbs with energy-saving Compact Fluorescent Light (CFL) bulbs in their inventory of over 800 Outer Banks vacation rentals. A simple initiative to change to these energy efficient bulbs compounded by the number and size of homes the company maintains will have a positive impact on the fragile Outer Banks environment and the homeowner's bottom line as well. This is an ongoing replacement process, but at completion, the energy and cost savings is staggering.
Twiddy's housekeeping crews use a collection of bulk cleaning products that are centrally dispensed into refillable bottles thereby reducing packaging waste. With hundreds of crews in force each weekend using several types of cleaning products, high-density plastic is saved from entering ever-burdened landfills. Additionally, Twiddy housekeepers utilize reusable micro fiber towels as opposed to paper towels to reduce the amount of resources and waste.
Twiddy & Company green efforts also extend to day-to-day practices in their offices in Duck and Corolla. Recycled and biodegradable paper products are used while offering recycling bins in the office. The Twiddy team continues to find ways to work smarter and minimize their impact on the environment.
About Twiddy & Company:
With over 800 vacation homes on the northern Outer Banks, Twiddy & Company has been a family owned and operated company for over 30 years. The tradition of hospitality is supported by over 80 employees in their Kitty Hawk, Duck, Corolla, and 4x4 offices. Twiddy & Company's local knowledge helps families enjoy the perfect Outer Banks vacation.
###