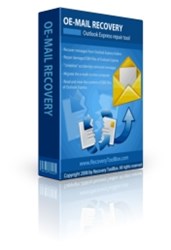 program is used to extract email messages from corrupted DBX files and save them in the EML format.
Sacramento, CA (PRWEB) March 05, 2013
Recovery Toolbox, a company known for its growing line of powerful, yet easy to use data recovery tools, releases the most advanced version of its bestselling Outlook Express repair tool, OE-Mail Recovery. According to independent benchmarks, the program outperforms and provides better accuracy of data recovery than most of its closest competitors. Based on a uniquely efficient file analysis algorithm, it extracts email messages even from badly damaged files and enables users to quickly re-import them to Outlook Express or any other email application supporting the EML format. The program features a clear, intuitive and good-looking interface that makes the initial familiarization and everyday use a snap. One of the key advantages of the program is the fact that it does not require any experience with data recovery software or advanced computer skills.
OE-Mail Recovery can be used by anyone, from a regular user to a system or network administrator, with equal efficiency. This Outlook Express repair tool works with DBX files created in outlook 5.0 – 6.0 and supports recovery from files up to 4 GB in size.
"Needless to say that we are very glad to make OE-Mail Recovery, one of our most successful products, a tad better," says Victor Bobrov, Head of Development at Recovery Toolbox. "With a tweaked recovery core and various minor fixes, it is a great value for anyone who has been affected by a file corruption incident and needed to restore access to their emails as soon as possible."
Original OE-Mail Recovery software can be downloaded from official site http://www.oemailrecovery.com/howuse.html