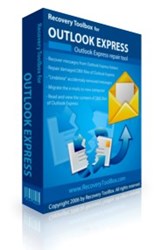 a largely updated and enhanced version of Recovery Toolbox for Outlook Express.
Sacramento, CA (PRWEB) March 19, 2013
Recovery Toolbox, the company known for its line of file repair and recovery solutions for the most popular email clients, office applications and other popular software products, gladly announces the recent release of the most advanced version of Recovery Toolbox for Outlook Express, one of its best-selling products and an extremely efficient Outlook Express recovery tool. Created for users of all skill levels, it features a simple interface with just the necessary number of controls and requires virtually no time for initial familiarization. Read the usage instruction.
The new version comes with a significantly improved recovery engine that offers a new level of data recovery efficiency in the worst cases of data corruption caused by virus attacks, power failures and hardware problems. The typical usage scenario for this Outlook Express recovery tool involves the extraction of recoverable messages from damaged Outlook Express DBX files, saving them to the EML format on the user's hard drive and subsequent re-import into a new OE folder. Apart from recovering messages from corrupted files, Recovery Toolbox for Outlook Express is capable of undeleting messages that were previously deleted in OE.
"According to our tests, Recovery Toolbox for Outlook Express outperforms its closest competitors by a fair margin both in terms of speed and quality of recovery – that is, the number of messages it manages to extract from the same damaged file," explains Victor Bobrov, Lead Developer at Recovery Toolbox. "I believe that the updated engine of the new version sets the bar even higher, offering a remarkable mix of a convenient interface, great recovery speed and an attractive price."