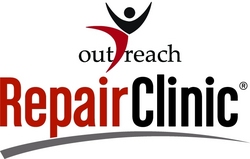 Canton, MI (Vocus) December 15, 2010
RepairClinic.com's Outreach program has once again partnered with Hope Clinic, a local non-profit organization that offers aid to those in need, to provide families this holiday season with food, household goods, toys, and clothing.
Outreach adopted five families through Hope Clinic this year to help them celebrate Christmas. Outreach purchased new clothing, winter coats, shoes, bedding, toys, and pots and pans. Each member of each of the five families chooses one item they want for Christmas; all the other items are divided amongst the families according to their needs. Hope Clinic has been sponsoring the Christmas Adoption Program for 10 years, each year receiving more requests from families and more businesses to become sponsors. In 2009, the program adopted over 200 families with this year's adoptions being even greater. The families that are not adopted, due to lack of sponsors, are given the opportunity to select gifts for their families from the items donated to Hope Clinic by various organizations and businesses.
By Tuesday, December 14, RepairClinic's Outreach has also collected 504 items from RepairClinic employees for the Hope Clinic Care and Share Closet. The employees donated household goods such as toilet paper, cleaning supplies, personal care products, and non-perishable food items. Due to the generosity of RepairClinic employees and many others in the community, Hope Clinic is able to provide groceries to over 1,700 households each year through their Care and Share Closet program.
About Outreach
RepairClinic.com makes a difference in their local community through a program called Outreach. It is administered by RepairClinic employees who combine their hard work and company resources to give back to the local communities and their charitable organizations. Outreach has participated in and raised funds for Relay For Life of Canton, MI; donated to Meals on Wheels of Ypsilanti, MI; participated in a Make-A-Wish Radio-a-thon; and raised funds and gathered donations for Hope Clinic -- a free clinic offering medical, dental, and social services to thousands of people in the Metro Detroit area.
About Hope Clinic
Founded in Ypsilanti, MI, in 1985 by Dr. Daniel Heffernan M.D., Hope Clinic provides compassionate and practical help to those in need. They have many programs including free medical and dental care to the uninsured; a food bank that provides families with groceries and household goods throughout the year; the Weekend Meal Program providing hot meals to the homeless; the Wash With Care Program that provides a place for low income families to do their laundry at no charge; the Financial Assistance Program that provides limited financial help to prevent evictions and utility shutoffs, or to help with other emergency financial needs; the Baby Aid program that provides diapers and formula to mothers and their infants; and the Care and Share Closet. To learn more, or to volunteer, visit http://www.thehopeclinic.org.
###