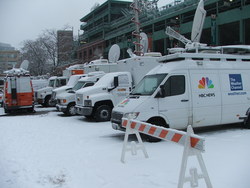 Regular copper coax cable was not appropriate, not only because the distance would have reduced the signal quality, but we would have run into safety and permitting issues if we tried to fly heavy copper cable across Van Ness Street
Worcester, MA (PRWEB) February 2, 2010
When the Boston Bruins hosted the Philadelphia Flyers for the 2010 Bridgestone NHL Winter Classic® on New Year's Day, a suite of advanced fiber optic transport solutions from Telecast Fiber Systems was instrumental in bringing the action home to television viewers. The Telecast gear enabled a seamless fiber optic link for delivering high-quality live video feeds to an offsite location for outside broadcast (OB) vehicles, 500 yards from the Fenway Park venue.
The NHL Winter Classic was televised by NBC and carried by numerous other national and local media outlets. Staging a hockey game in a historic baseball field created a unique logistical challenge for the broadcasters, since the area just outside the stadium usually designated for broadcast trucks was occupied by ice-making equipment. Besides adding an additional 500 yards to the distance from Fenway's cross-connect A/V access point, the offsite truck location was separated from the stadium by busy Van Ness Street.
"Regular copper coax cable was not appropriate, not only because the distance would have reduced the signal quality, but we would have run into safety and permitting issues if we tried to fly heavy copper cable across Van Ness Street," said Jim Thistle, president of Thistle Communications, the NHL's contracted production equipment supplier. "It was a job for fiber, and was ideally suited to the reliability and high-quality results we've come to expect from Telecast systems."
Thistle and Ed Jacobs, president of Interstate Rentals, another production equipment provider, worked together to devise a solution using lightweight fiber optic tactical cable to provide an overhead connection between the OB trucks and the cross-connect point inside Fenway. Telecast's http://www.telecast-fiber.com/audio_overview/ [DiamondBack II ™ and Adder II™ systems were used for SD video and analog audio transport to the truck compound. In addition, Telecast's Viper II™ and Rattler™ modular transmit/receive units provided HD/SDI video capabilities as required. NBC, ESPN, Comcast, and several local Boston and Philadelphia stations all took advantage of the fiber link to access live shots from the game.
"The Telecast gear worked flawlessly and removed a lot of stress from the operation," said Thistle. "Our client and the media outlets were all very pleased with the results and gave us plenty of positive feedback. Our company has relied on Telecast equipment for many years and we've installed it in many year-round venues. The technical support is outstanding, and we're always impressed with how reliable the systems are and how well they handle weather extremes — a very important factor here in Boston."
About Thistle Communications
Thistle Communications was founded to offer unparalleled service in every phase of television remote production from concept and design to multicamera production, lighting, sound, staging, and satellite and microwave transmission. Thistle's staff has more than 75 years of combined experience in major market and network television news, sports, special events, and corporate production. For more information, visit http://www.thistlecommunications.net.
About Telecast Fiber Systems, Inc.
Telecast Fiber Systems, Inc., a Belden brand, is a leader in portable and fixed fiber optic systems for television broadcast production. The company's video, audio, and communications systems are used worldwide by TV networks, teleproduction companies, sports venues, and various private, educational, and government and military organizations to extend range, simplify cabling, and reduce labor costs and set-up time. Telecast systems accommodate all television production signals, including NTSC/PAL video, SDI and HD/SDI video, analog and AES/EBU audio, HD and triax camera interfaces, and intercom and data signals. More information can be found at http://www.telecast-fiber.com.
All trademarks mentioned herein are property of their respective owners.
###