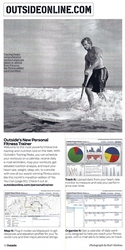 By combining our award-winning health and fitness content with TrainingPeaks.com, our readers have access to the same unparalleled software tools used by our favorite athletes and coaches to track their progress and monitor their overall fitness
Lafayette, CO (PRWEB) February 23, 2010
Outside magazine, America's leading active-lifestyle publication, today announced that it will launch the Outside Fitness Planner, an interactive web/mobile fitness and training tool powered by TrainingPeaks.com. The new program will allow readers to access the same expert health and fitness advice they have come to rely on from Outside Magazine along with world-class tools to track exercise, diet and map routes.
To create the Outside Fitness Planner, Outside collaborated with some of the world's top coaches to develop a series of one-of-a-kind, comprehensive fitness regimens. The fitness programs will be delivered to users directly through a variety of platforms -via email, text, and online-- offering flexibility and freedom to follow a plan no matter where you are. Training programs range from 'how to train for a marathon' to 'how to get in the best shape of your life'. In addition, diet and exercise plans designed by renowned experts will be available. Outside readers can also upload workouts from more than 80 popular GPS, heart rate, pace and power tracking devices; search, map and share routes; track and plan nutrition; and get daily emails with their next day's planned workout.
"By combining our award-winning health and fitness content with TrainingPeaks.com, our readers have access to the same unparalleled software tools used by our favorite athletes and coaches to track their progress and monitor their overall fitness," said Outside's editor, Christopher Keyes. "It's the perfect platform for achieving any fitness goal, whether it's just trying to get back in shape or attempting to set a new personal best in a marathon."
"Outside Magazine strikes the perfect balance between credible information and compelling inspiration," remarked Donavon Guyot, CEO of Peaksware, the company behind TrainingPeaks.com. "We are honored to have been selected to provide Outside readers with software tools to compliment such a top notch offering."
Training plans start at $14.95 and include a "Beginner Marathon Training Plan" by Hal Higdon and a five part series from Outside Magazine's editors called, "Shape of Your Life" covering endurance, strength, flexibility, speed and power and balance and agility. Additional plans will soon be available. Training plans can be applied to either a free Basic account or a Premium subscription account. For those not ready for a plan, a free or Premium TrainingPeaks.com account can still be created to track their training. Learn more at outsideonline.com/fitnesscenter
About Peaksware:
Peaksware, LLC, founded in 1999, develops software systems to help motivated individuals and professionals achieve health, fitness and peak performance. In addition to the world's leading online training and nutrition log, TrainingPeaks.com, Peaksware also produces the desktop products Device Agent and WKO+. Each of these products is sold both direct to consumers and can also be customized in a white label format for enterprise customers. For more information or to discuss business development opportunities contact info_at_peaksware.com.
About Outside:
Outside is America's leading active lifestyle magazine, with over two million readers a month. For more than 30 years, the magazine has covered travel, sports, adventure, health, and fitness, as well as the personalities, the environment, and the style and culture of the world outside. Along with receiving many other accolades, Outside is the only magazine to win three consecutive National Magazine Awards for General Excellence. Visit the magazine online at outsideonline.com.
Contacts:
Jeremy Duerksen
Director of Marketing
Peaksware, LLC
2770 Dagny Way, Suite 212,
Lafayette, CO 80026
303-437-9652
Jada Williams
Outside Magazine Publicity
Giant Noise
646.649.4933
###