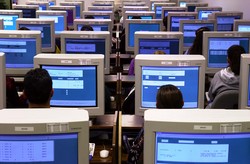 From day one, every member of the DATAMARK team has demonstrated a real commitment to understanding our company's unique procedures
El Paso, TX (PRWEB) September 15, 2009
To meet the growing needs of clients in the Healthcare and Financial Services Industries, DATAMARK, Inc., one of the leading domestic outsourcing firms in the U.S., has launched several image-enabled Accounts Payable / Accounts Receivable Reconciliation Services aimed at helping businesses minimize the percentage of claims and payments that typically go uncollected. By remotely processing a business's payments, checks, invoices, and Explanation of Benefits (EOBs), DATAMARK enables their clients to maximize revenue and actively manage their collections process.
In the case of Interstate Capital Corporation, an international factoring company that has provided several billion dollars in funding to several thousand companies in the transportation, staffing, manufacturing, and B2B services industries, DATAMARK leveraged their domestic outsourcing facility to develop a custom account reconciliation solution to actively manage ICC's factoring database. Now having outsourced document imaging and database linking to DATMARK for over 3 months, ICC's staff has recognized a dramatic reduction in the administrative costs associated with this highly labor-intensive task. By refocusing on the company's core strengths, ICC has been able to immediately service the needs of its customers by concentrating on its core business of funding its clients, collecting their receivables, and maximizing the use of its capital.
"From day one, every member of the DATAMARK team has demonstrated a real commitment to understanding our company's unique procedures", commented Tony Furman, Interstate Capital CEO. "In a few short months DATAMARK has made a number of improvements that streamlined our invoice imaging and database linking process and reduced the administrative burden on ICC staff, which has allowed us to better serve our customers."
"Almost every company can benefit by focusing on their core competencies and outsourcing back-end business processes, such as data entry and scanning, to someone with that specific expertise", said Lizeth Foster, DATAMARK commercial manager. "In this economy, we've seen companies begin to outsource a number of administrative functions that had not typically been outsourced, but are effectively managed remotely."
DATAMARK, Inc:
DATAMARK is one of the leading domestic outsourcing firms in the U.S. and is responsible for the development of several 'best-practice' outsourcing solutions used by Fortune 500 companies today.
DATAMARK's core services include: Domestic outsourcing, Account reconciliation, Inbound mailroom services, Scanning, OCR, Data entry services, Indexing, Remote processing solutions, X-ray conversion, Fax server solutions, Adjudication, Decisioning, On-line document storage, and Confidential destruction.
With a flexible workforce of over 2,000 employees worldwide, spanning onshore, near-shore and far-shore facilities, DATAMARK offers multiple cost options and versatile services tailored to each client's unique requirements.
To learn more about DATAMARK's outsourcing solutions visit: http://www.datamark.net
Interstate Capital Corporation:
Interstate Capital Corporation is a U.S. based factoring company that has provided several billion dollars in funding to thousands of international clients from Canada, U.S. and Mexico.
ICC provides funding to a broad range of industries and has sub-specialty expertise in: Transportation & Distribution Factoring, Staffing Service Factoring, Manufacturing & Distribution and Trade & Inventory Finance.
ICC employs its own capital in the ongoing purchase of nearly a half billion dollars of its clients' invoices annually. Its strong internal capitalization and untapped 8-figure line of credit give ICC the financial muscle to act independently and decisively, and without interference from outside investors or lenders. Companies interested in factoring accounts receivable and related services can visit ICC's website at http://www.interstatecapital.com for an instant quotation using their "get cash now" form.
# # #