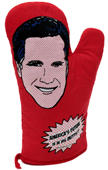 With Oven Mitt Romney, you won't get burned!
New York, NY (PRWEB) June 14, 2012
Oven Mitt Romney was created for Americans of all political persuasions, in celebration of, well, just being American! It is reasonably priced as a unique novelty, gift, or collector's item for the 2012 Presidential Election.
Norma Lana, Ron Dreyer, and Frank Cefalo – the Oven Mitt Romney team (and friends in real life) – came up with the idea over dinner one night when Norma put on an oven mitt and exclaimed "Oven Mitt Romney!" A truly American idea was born.
According to co-creator Norma Lana, "In an uncertain political environment, one thing's for sure: With Oven Mitt Romney, you won't get burned!"
Check it out at ovenmittromney.com.
Oven Mitt Romney is made of 100% quilted cotton and is silk-screened with a comic-book-style image of Romney. The eleven-inch long oven mitt is available in "Romney red" and sells for $12.99. Special pricing is available for bulk orders.
"We are overwhelmed with the great response to Oven Mitt Romney," commented co-creator/designer Ron Dreyer.
"People think it's hilarious," continued co-creator Frank Cefalo. "They are buying more than one for friends and family."