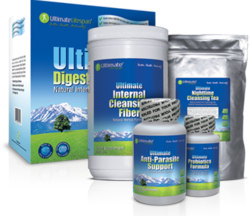 The source, they say, is a growing problem that affects 1 in 4 people
(PRWEB) March 23, 2013
Ultimate Digestive Health claims to target the primary cause of common symptoms such as constipation, low energy, gas, diarrhea, bloating, flabby tummy, difficulty sleeping, skin problems, and more. The source, they say, is a growing problem that affects 1 in 4 people.
Ultimate Digestive Health reveals its 30-day cleansing package, while also showcasing its 60 and 90 day programs.
Here is a VIDEO that explains the source, and how Ultimate Digestive Health addresses the issue.
The system includes 4 specially formulated components that, according to parent company Ultimate Lifespan "work in harmony with your body to achieve rapid results". These components are:
1. Ultimate Cleansing Fiber
2. Ultimate Anti-Parasite Support
3. Ultimate Nighttime Cleansing Tea
4. Ultimate Probiotics Formula (Free Bonus Item)
Early user feedback has been strongly positive as users continue to discover benefits of natural body cleansing and detox.
Click here for the Ultimate Digestive Health website and video
OverallHealth.org is a free-spirited site where author and chief editor Henry Rearden enjoys profiling and reviewing fresh – sometimes trendy - new products to hit the health market. Anything in the periphery of health and well-being is fair game for Henry to pull off the shelf for a look-see!