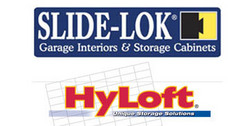 We are excited by the addition of overhead garage storage to our product line. We can think of no better way to show our excitement than by offering free overhead storage units to our customers when they purchase select garage storage systems from us
Phoenix, AZ (PRWEB) July 31, 2007
To celebrate the addition of overhead garage storage to Slide-Lok's growing product line, and to offer consumers a summer incentive to clean up their garage, Slide-Lok announced today that it will be giving consumers two free 48'' x 48'' Hyloft overhead garage storage units when they purchase a 10' or larger white garage cabinet storage system at regular prices. The promotion will run thru the end of August 2007 and has a retail value to the consumer of $300. Consumers will have their choice of white or gray overhead storage units under this promotion.
Jason Jantzen, Slide-Lok's marketing director, stated "We are excited by the addition of overhead garage storage to our product line. We can think of no better way to show our excitement than by offering free overhead storage units to our customers when they purchase select garage storage systems from us".
Overhead garage storage joins Slide-Lok's growing product line up, which includes Slide-Lok's famous plywood garage cabinets and Slat-Wall storage systems; Slide-Lok's revolutionary 1-day garage floor coatings system, featuring Flexmar Coating technologies; and Slide-Lok's closet systems. Slide-Lok's latest offer gives consumers more versatility and efficiency than ever before when it comes to garage storage.
For more information on Slide-Lok garage cabinets, garage floor coating systems, overhead storage, Slat-Wall and closet systems, contact Slide-Lok directly at 800-835-1759 or visit them on the web at http://www.slide-lok.com.
About Slide-Lok:
Slide-Lok is an industry leader in the fast growing garage and overall home organization market with over 30 years experience in producing high quality, durable cabinetry and Slat-Wall storage systems. Slide-Lok's garage cabinets utilize a patented dovetail design, plywood construction, adjustable 6-way hinges, and Thermofuse doors - making Slide-Lok the quality leader. Slide-Lok's flooring system featuring FLEXMAR Coatings, LLC polymer extended polyaspartic polyurea garage floor coatings feature a 1 day all weather install and are 4x stronger than epoxy; and Slide-Lok's closet line features dovetail construction, fast order to install time, and the quality and esthetics consumers have come to expect from Slide-Lok.
Slide-Lok's dealer network includes more than 150 dealers across the United States and Canada.
About Flexmar Coatings, LLC:
Flexmar Coatings, LLC manufactures the highest-quality clear sealers and pigmented coatings based on polyaspartic resin technology. In addition to residential garage floors, remarkable Flexmar coatings are being applied to residential driveways, patios, and walkways, as well as a variety of commercial decorative floor surfaces.
Contact:
Jason W. Jantzen 800-835-1759
Slide-Lok Headquarters
Media Contact:
Aric Zion, 480-751-1007 (x108)
Zion & Zion
http://www.zionandzion.com
###