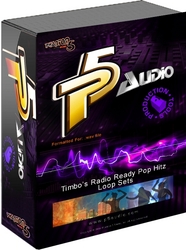 The hottest Pop artists of today are constantly crossing over into the realm of Hip Hop. Our goal is to give producers easy access to the sounds they need in order to meet this demand
Los Angeles, CA (PRWEB) March 19, 2009
P5 Audio, leader in royalty free music loops and sample sounds products, today announces the release of Timbo's Radio Ready Pop Hits Loop Sets - a collection of 25 royalty free Hip Hop style dance beats, all multi-tracked and available now for instant download.
"The hottest Pop artists of today are constantly crossing over into the realm of Hip Hop. Our goal is to give producers easy access to the sounds they need in order to meet this demand," states David Whiteside, co-founder of P5audio.com. "There is no question, Pop style Hip Hop dance tracks are dominating the current air-waves!"
Timbo's Radio Ready Pop Hits Loop Sets was expertly produced in the styles of current mega pop artists. These original, royalty free, multi-track loop sets feature modern Pop and Hip Hop sounds, and are designed for creating professional sounding instrumental beats, quickly and easily.
Timbo's Radio Ready Pop Hits Loop Sets:

Contains 25 multi-track loops sets, including 279 individual loops.
Features instrumental loops in the styles of Justin Timberlake, Nelly Furtado, Keri Hilson and more.
All parts for each loop set are separated. Instrumentation includes: kicks, snares, hats, synths, bass, percussion, keyboards and effects.
All loops are Royalty Free.
All loops are available in the following formats: 24 bit and 16 bit, 44.1 kHz WAV, Apple Loops and REX.
Loops work perfectly in FL Studio 8, Sony Acid Pro, Garageband, Fruity Loops, Pro Tools and more.
Available on DVD-ROM and Instant Download.
To Instantly Download the Timbo's Radio Ready Pop Hits Loop Sets:
Visit: http://www.P5audio.com
Call: 1-888-884-8838
Contact: David Whiteside
About P5 Audio (http://www.p5audio.com):
P5 Audio, leader in music sample sounds and loops, is committed to delivering professional products for the modern music producer - offering multi track music loops and sample downloads, RnB and hip hop samples, music loops and sample sounds for fruity loops, garage band loops, acid pro, rock beats and drum loops - ready to use in all major software sampler formats, as well as all music hardware samplers. 100% Royalty Free and available now for Instant Download.
###