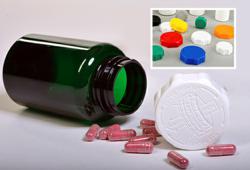 Bayport, New York (PRWEB) March 12, 2013
Package All Corporation is featuring a new product of the month on their website. This month's feature is Mold-Rite's EZ-Safe™ child-resistant plastic caps, a new packaging resource for the OTC Pharmaceutical and Nutraceutical industries. These senior-friendly closures offer ease of use attributed to the distinctive ergonomic "ribs" positioned around the outer edge of each cap. Not only do they support an exceptional consumer experience, they also double as a potent visual tool for branding.
Mold-Rite uses recessed text and pictorial push-down-and-turn instructions to promote proper open and close technique for their EZ-Safe™ closures. Fully-compliant child-resistant features are built-in without sacrificing the unique user experience. Simple directions, child-resistant, a comfortable grip; the carefully planned combination of these inspired elements in one closure likens the opening of an EZ-Safe™ cap to a gala celebration.
EZ-Safe™ child-resistant closures are now available in 28mm, 33mm, 38mm and 45mm with a 400 neck finish. These plastic caps are compatible with a range of bottles sizes and can be supplemented with a variety of liners in pressure sensitive and heat induction seals. As with all Mold-Rite products, EZ-Safe™ is available in a wide spectrum of colors designed to meet virtually all branding requirements.
Package All is featuring the EZ-Safe child-resistant closures on the homepage of their website. Easy access to sample and quote requests through My Package All registration on the website is available. Also note that the website now sports an online product catalog with search options for bottles and closures.
Package All Corporation is the first U.S. Packaging Distributor to earn NSF cGMP Certification and has been in the rigid packaging business since 1984 with commercial fulfillment across the United States, Canada, Europe, Asia and Australia. The Corporate Headquarters is located in Bayport, NY. Package All distribution centers in New York and Southern California house over 270,000 square feet of warehouse space to accommodate plastic bottles, glass bottles, containers, plastic and metal caps, pharmaceutical coil, desiccants and other related packaging products.