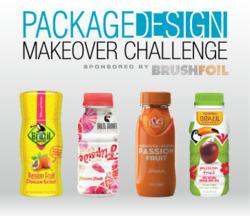 With every Makeover Challenge, it amazes me how the four design firms reinvent the brand in exciting new ways.
Cincinnati, OH (PRWEB) August 18, 2011
Package Design magazine and its parent company, ST Media Group International, reveal the impressive entries of its eighth annual Makeover Challenge in the July/August 2011 issue. This unique competition showcases the talents of four package design teams as they develop new packaging ideas for a single brand's current product line. The package design industry is encouraged to vote online and pick the winning design.
This year's subject brand is Brazil Gourmet—all-natural beverages featuring juices, nectars, and smoothies. Brand owner Liberty Imports of Allentown, PA, is dedicated to bringing the authentic tastes of South America's tropical fruits to the U.S. juice market, but the brand and package design strategy had become disjointed. Liberty Imports thought a key element of expanding distribution was creating completely new designs that would target upscale consumers who sought out all-natural products. Though the existing Brazil Gourmet toucan icon had equity with loyal customers, even that was open to reinterpretation.
The 2011 Makeover Challenge participating design teams are: CIULAA ASSOC, Chicago, IL; LeeReedy/Xylem Digital, Denver, CO; Little Big Brands, White Plains, NY; and Murray Brand Communications, San Francisco, CA. Each team took a decidedly different approach to preparing the brand for a new era.
"With every Makeover Challenge, it amazes me how the four design firms reinvent the brand in exciting new ways," says Julie Okon, Publisher, Package Design magazine. "And the thorough brand explorations each firm performs result in fully realized branding and packaging platforms."
This eighth edition of the Makeover Challenge is sponsored by Brushfoil.
The design team submissions can be viewed in the July/August 2011 issue of Package Design and online at packagedesignmag.com/makeoverchallenge. Readers of Package Design and members of the packaging industry are asked to vote online and pick the team they believe presented the best overall design for repositioning the Brazil Gourmet brand. Makeover Challenge online voting is currently underway. The winning design team will be honored with an in-depth cover story profile in the November 2011 issue.
About Package Design
Published 10 times a year, Package Design provides in-depth insight into the vibrant and evolving package design field. Package Design's editorial content consists of departments and features highlighting the products, techniques, and insights needed for package designers to succeed in delivering increased sales for their clients. For more, visit packagedesignmag.com.
About ST Media Group International
ST Media Group International Inc.'s products enjoy a worldwide reputation of quality and timely editorial. Located in Cincinnati, ST Media Group is a 105-year-old multimedia company that specializes in the business-to-business markets of visual communications consisting of signage, retail design, screen printing, digital imaging, package design and boutique/hospitality design. Visit stmediagroup.com for details.
# # #