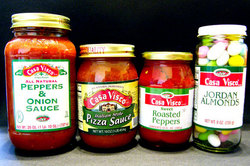 The participants in this year's Makeover Challenge brought fresh, new approaches to the Casa Visco brand. Their submissions were very attractive, functional and are sure to create shelf impact
Cincinnati, OH (Vocus) August 19, 2009
Package Design Magazine and its parent company, ST Media Group International, reveal the impressive entries of its sixth annual Package Design Makeover Challenge in the August 2009 issue. This unique competition showcases the talents of four package design teams as they develop new package design ideas for a single brand's current product line.
The 2009 brand makeover participant is Schenectady, NY-based Casa Visco, manufacturers of gourmet, all-natural spaghetti sauces, mustards, and marinades. From its humble beginning in 1948 as a small wholesale grocery business, Casa Visco has matured into a trusted manufacturer, distributor, and exporter of award-winning specialty sauces. Despite its growth and success, Casa Visco's commitment to quality has never waivered. To this day, the family oversees each batch of sauce that is produced.
This year's participating design teams are: Beach Packaging Design in Staten Island, New York; Estudio Ray in Phoenix, Arizona; Queue Marketing Communications Group in, Chicago, Illinois; and Rex Design in São Paulo, Brazil. Each team took a decidedly different approach to preparing the brand for a new era.
Teams were given the task of creating a new brand identity for Casa Visco's products — an identity that would successfully portray the brand's products in sleek, present-day designs while keeping true to its history and family traditions. Their ultimate goal is to enhance the brand's "consumer connection" while finding innovative sustainability solutions and maximizing production efficiencies.
"The participants in this year's Makeover Challenge brought fresh, new approaches to the Casa Visco brand. Their submissions were very attractive, functional and are sure to create shelf impact," Chris Lyons, publisher of Package Design Magazine says. "Each team's inventiveness yielded innovative package designs that will surely enhance the Casa Visco brand."
This sixth edition of the Makeover Challenge is sponsored by EskoArtwork. Complete summary accounts and images of each team's designs appear in the August 2009 issue of the magazine and online at packagedesignmag.com. Readers of Package Design are asked to vote online and pick the team they believe presented the best overall package design for repositioning of the Casa Visco brand. Voting takes place at packagedesignmag.com/makeover. The Makeover Challenge "winning" package design team will be honored with an in-depth cover story profile in the November 2009 issue.
About Package Design Magazine
Published 11 times a year, Package Design Magazine provides in-depth insight into the vibrant and evolving package design field. Package Design Magazine's editorial content consists of departments and features highlighting the tools, techniques, and insights needed for package designers to succeed in delivering increased sales for their clients. For more, visit packagedesignmag.com.
About ST Media Group International
ST Media Group International Inc.'s products enjoy a worldwide reputation of quality and timely editorial. Located in Cincinnati, ST Media Group is a 102-year-old multimedia company that specializes in the business-to-business markets of visual communications consisting of signage, screen printing, digital imaging, retail design and hospitality design. Visit stmediagroup.com.
###